The compressor is the power unit of the A/C system.
It is located on the side of engine block and driven by a V-belt of the engine.
The compressor changes low-pressure and low-temperature refrigerant gas into high-pressure and high-temperature refrigerant gas.
Variable Swash Plate Compressor
The compressor has a swash plate that rotates to reciprocate pistons, which compress refrigerant.
The variable swash plate compressor controls the swash plate angle to change the refrigerant displacement. It achieves precise cooling capability control in accordance with vehicle interior and driving conditions.
The externally controlled variable swash plate compressor changes the swash plate angle by an ECV (Electric Control Valve) in accordance with an electrical signal from the heater & A/C control unit.
This enables stable temperature control and improves driving comfort.
ECV Control Diagram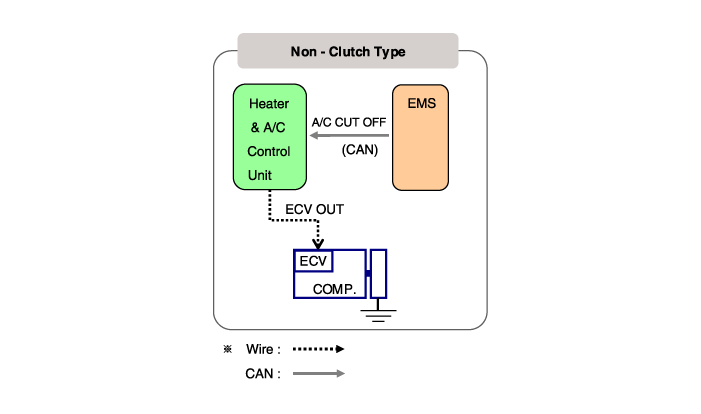 Other information:
Interior general precautions Prevent caustic solutions such as perfume and cosmetic oil, from contacting the interior parts because they may cause damage or discoloration. If they do contact the interior parts, wipe them off immediately. See the instructions for the proper way to clea ...
The Smart High Beam is a system that automatically adjusts the headlamp range (switches between high beam and low beam) according to the brightness of other vehicles and road conditions. Operating condition 1. Place the light switch in the AUTO position. 2. Turn on the high beam by ...