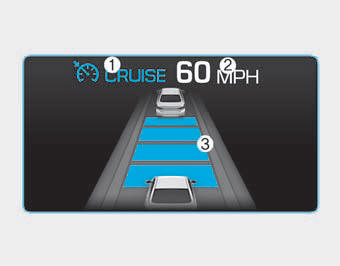 ➀ Cruise Indicator
➁ Set Speed
➂ Vehicle-to-Vehicle Distance
The Smart Cruise Control System allows you to program the vehicle to maintain constant speed and distance detecting the vehicle ahead without depressing the accelerator pedal.
WARNING
For your safety, please read the owner's manual before using the Smart Cruise Control system.
WARNING
The Smart Cruise Control System is not a substitute for safe driving practices, but a convenience function only. It is the responsibility of the driver to always check the speed and distance to the vehicle ahead.
WARNING
Take the following precautions:
If the Smart Cruise Control is left on, (CRUISE indicator light in the instrument cluster is illuminated) the Smart Cruise Control can be activated unintentionally. Keep the Smart Cruise Control System off (CRUISE indicator light OFF) when the Smart Cruise Control is not in use, to avoid inadvertently setting a speed.
Use the Smart Cruise Control System only when traveling on open highways in good weather.
Do not use the Smart Cruise Control when it may not be safe to keep the vehicle at a constant speed:
- Driving in heavy or varying speed traffic.
- On slippery (rainy, icy or snow covered) roads.
- Hilly or winding roads.
- Very windy areas.
Other information:
Component Location 1. Rear driveshaft LH2. Rear differential carrier assembly3. Rear driveshaft RH ...
Warning message A warning message and chime will sound when you need to use the brake pedal or steering wheel due to a sudden stop or lack of distance with the vehicle ahead. The warning messages will vary according to the severity of the situation. Immediately reduce your speed ...