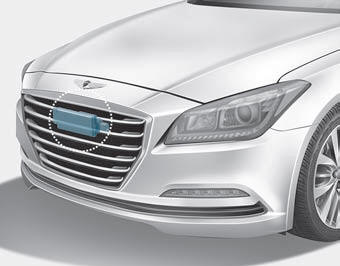 The Smart Cruise Control uses a sensor to detect distance to the vehicle ahead.
Sensor warning message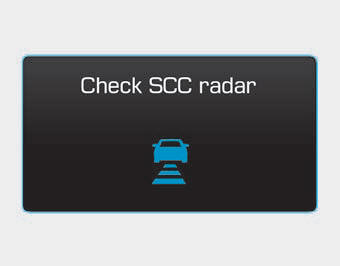 If the sensor or cover is dirty or obscured with foreign matter such as snow, this message will appear. In this case, the system may not function temporarily, but it does not indicate a malfunction of the Smart Cruise Control System. Clean the sensor or cover by using a soft cloth.
SCC (Smart Cruise Control) malfunction message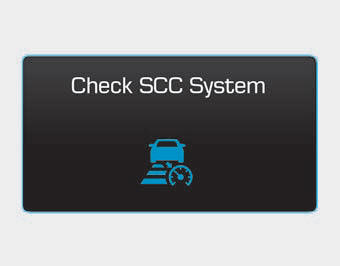 The message will appear when the vehicle to vehicle distance control system is not functioning normally.
Take your vehicle to an authorized HYUNDAI dealer and have the system checked.
CAUTION
Do not install accessories around the sensor and do not replace the bumper by yourself. It may interfere with the sensor performance.
Always keep the sensor and bumper clean.
To prevent sensor cover damage from occurring, wash the car with a soft cloth.
Do not paint the sensor cover.
Do not damage the sensor or sensor area by a strong impact. If the sensor moves slightly off position, the Smart Cruise Control System will not operate correctly. If this occurs, have your vehicle checked by an authorized HYUNDAI dealer.
Use only a genuine HYUNDAI sensor cover for your vehicle.
Other information:
Component Location 1. Rain sensor (Built - in Auto light sensor)2. Head lamps3. Lighting switch (Auto)4. Tail lamps5. BCM (Body Control Module)6. SJB (Smart Junction Block) ...
Removal • In order to remove the front glass, use the tools shown in the following figure: [Tooling Diagram] Square wire Insert-type wire grip [Tooling Assembly Diagram] • Insert and affix square wire into the insert hole of the wire grip . 1. Pres ...