Hyundai Genesis: ESC(Electronic Stability Control) System / Schematic Diagrams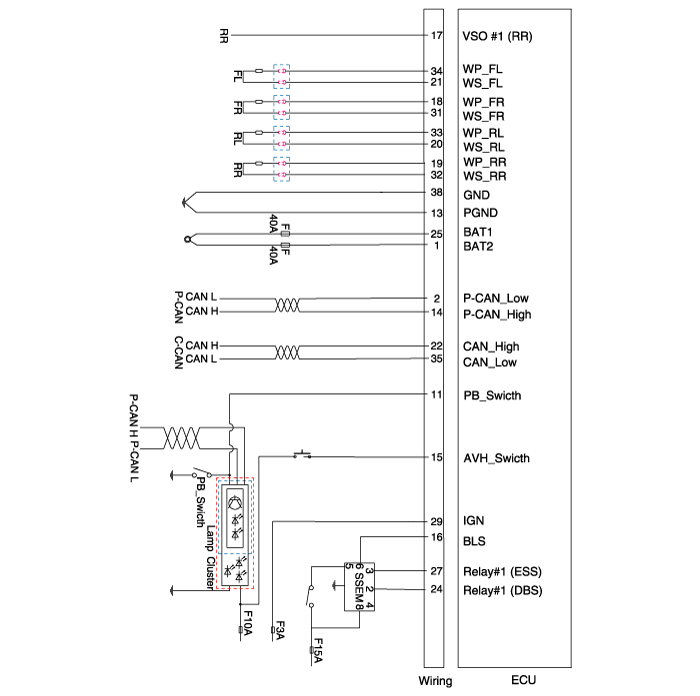 ESC connector input/output

Pin No




Description




Current(m/A)




Resistance(m/?)






MAX




1




Battery 2 (+)




137




10




2




POWERTRAIN CAN LOW




30




250




3




-




-




-




4




-




-




-




5




-




-




-




6




-




-




-




7




-




-




-




8




-




-




-




9




-




-




-




10




-




-




-




11




Parking brake switch




10




250




12




-




-




-




13




Ground




137




10




14




POWERTRAIN CAN HIGH




30




250




15




Auto Hold Switch




10




250




16




Stop Lamp Switch




10




250




17




Wheel speed sensor output




16




250




18




Front wheel Sensor power RH




30




250




19




Rear wheel Sensor power RH




30




250




20




Rear wheel Sensor signal LH




16.8




250




21




Front wheel Sensor signal LH




16.8




250




22




C-CAN HIGH




30




250




23




-




-




-




24




DBC/HAC relay control




250




250




25




Battery 1 (+)




40




10




26




-




-




-




27




ESS relay control




250




250




28




-




-




-




29




HECU (IGN)




50




60




30




-




-




-




31




Front wheel Sensor signal RH




16.8




250




32




Rear wheel Sensor signal RH




16.8




250




33




Rear wheel Sensor power LH




30




250




34




Front wheel Sensor power LH




30




250




35




C-CAN LOW




30




250




36




-




-




-




37




-




-




-




38




Ground




40




10



Description of ESC ESC recognizes critical driving conditions, such as panic reactions in dangerous situations, and stabilizes the vehicle by braking by wheel and engine control intervention. ...
Failure Diagnosis 1. In principle, ESC and TCS controls are prohibited in case of ABS failure. 2. When ESC or TCS fails, only the failed system control is prohibited. 3. However, when the ...
Other information:
Component Location 1. ATF Warmer2. Transmission3. Transfer case(AWD) ...
Description The cooling fan controlsx the cooling fan motor voltage depending on the duty output from the ECU (Freq.: 300Hz). [Signal from the ECU to the PWM (SI: 300Hz)] SI DutyMotor Voltage (V)Variation (V)10%0±0.530%4.160%8.270%9.5790%more than 12.5- [Operating condition of the cooling ...
© 2013-2022 www.hgenesisdh.com