The heating and cooling system can be controlled manually by pushing buttons other than the AUTO button. In this case, the system works sequentially according to the order of buttons selected. When pressing any button except the AUTO button while using automatic operation, the functions not selected will be controlled automatically.
1. Start the engine.
2. Set the mode to the desired position. For improving the effectiveness of heating and cooling;
- Heating:


- Cooling:

3. Set the temperature control to the desired position.
4. Set the air intake control to the outside (fresh) air position.
5. Set the fan speed control to the desired speed.
6. If air conditioning is desired, turn the air conditioning system on. Press the AUTO button in order to convert to full automatic control of ODH043086 the system.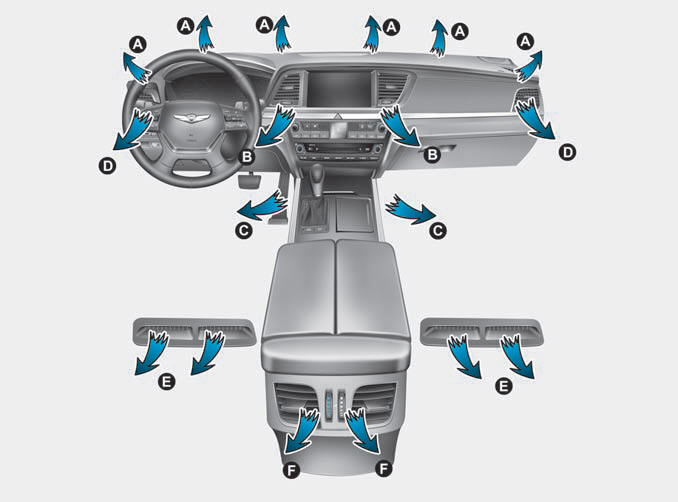 Other information:
Description The fuel pressure sensor (FPS) is installed on top of the low pressure fuel pump and measures the pressure of the low pressure fuel line. Based on the current fuel pressure and the amount of fuel consumed, the fuel pump control module (FPCM) determines whether to activate the ...
Replacement 1. Disconnect the negative (-) battery terminal. 2. Disconnect the connector and then remove the auto defogging sensor (A). 3. Install in the reverse order of removal. ...