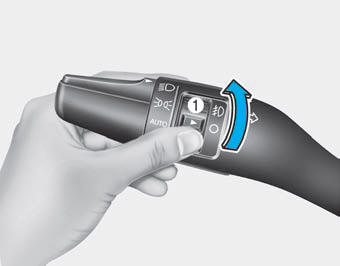 Use the switch next to the headlamp switch to turn the Fog Lights ON and OFF. The fog lamps will turn on when the fog lamp switch (1) is turned to the ON position after the headlamps are turned on.
To turn off the fog lamps, turn the switch to the OFF position.
You can use the fog lamps only when the headlamps are on low beam. When the light switch is in the AUTO position, you can also use the fog lamps when the headlamps turn on automatically. The fog lamps will go OFF when the headlamps turn OFF.
✽ NOTICE
When in operation, the fog lamps consume large amounts of vehicle electrical power. Only use the fog lamps when visibility is poor.
To signal a turn, push down on the lever for a left turn or up for a right turn in position (A). To signal a lane change, move the turn signal lever slightly and hold it in position (B).The ...
Other information:
Circuit Diagram Input / Output Terminal Voltage No.SignalDescriptionlevel1ACCACCOFF(Less than 1V), ON(More than 8V)4C-CAN-LHigh Speed CAN low-11V-OUTVideo Out-13IGNIGN SignalON(More than 9V) / OFF(Less than 1V)16C-CAN-HHigh Speed CAN high-18GND-RRear Camera GND-19REAR-POWERVCC-REARON(6~7V) / ...
Circuit Diagram [A type of driver's seat] [B type of driver's seat] [C type of driver's seat] [D type of driver's seat] [A type Assist] [B type Assist] [C type Assist] ...