Hyundai Genesis: Tire Pressure Monitoring System / Components and Components Location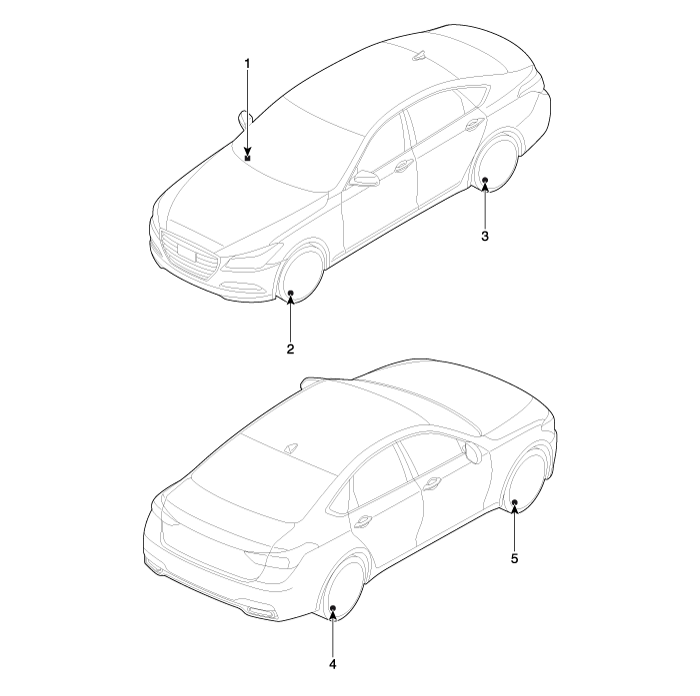 1. Receiver




2. TPMS Sensor (FL)




3. TPMS Sensor (RL)




4. TPMS Sensor (RR)




5. TPMS Sensor (FR)



Description Tread Lamp - Tire Under Inflation / Leak Warning. 1. Turn-on condition A. When tire pressure is below allowed threshold B. When rapid leak is detected by the sensor. 2 ...
Other information:
Special Service Tools Tool Name / NumberIllustrationDescriptionCrankshaft front oil seal installer09231-3C100Front oil seal mountingCrankshaft pulley fixing tool(09231-1S100)Crankshaft pulley fixed tool handle(09231-2J210)Remove the crankshaft damper pulley and mounting boltsA : 09231-1S100B : ...
Adjustment 1. After loosening the hinge (A) mounting bolt, adjust the hood (B) by moving it up and down or from side to side and tighten the bolt. 2. Adjust the hood height by moving the hood overslam bumpers (C) up and down. 3. After loosening the hood latch (D) mounting bolts, adjust ...
© 2013-2021 www.hgenesisdh.com