Hyundai Genesis: Engine Control System / ETC (Electronic Throttle Control) System Schematic Diagrams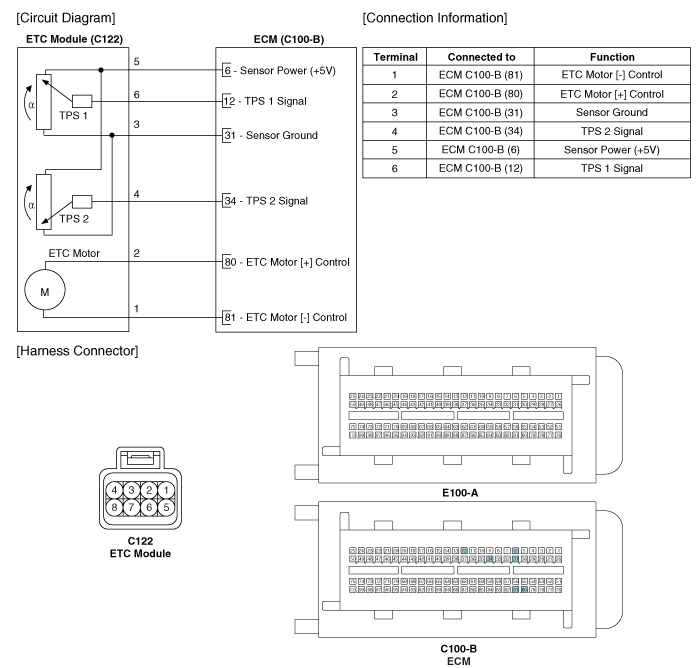 Specification [Throttle Position Sensor (TPS)] Throttle angle(°)Output Voltage (V)TPS1TPS200.54.5100.964.05201.413.59301.873.14402.322.68502.782.23603.231.77703.691.32804.140.86904.600.41984.650. ...
Inspection If idle rpm is unstable or engine stops, check the ETC module operation with GDS diagnostic tool. And if necessary, clean carbon in the throttle body. 1. Connect the GDS to the Data ...
Other information:
Seat belt use during pregnancy The seat belt should always be used during pregnancy. The best way to protect your unborn child is to protect yourself by always wearing the seat belt. Pregnant women should always wear a lap-shoulder seat belt. Place the shoulder belt across your chest, ...
Schematic Diagram 1. Circuit diagram 2. Connector terminal information TerminalDescriptionCurrent (m/A) MAXMIN1Battery (+)12.5-2Battery12.5-3Parking brake switch20-4---5---6Electric parking brake switch signal 41057Electric parking brake switch signal 31058C-CAN LOW30209---10---11IGN20512 ...
© 2013-2022 www.hgenesisdh.com