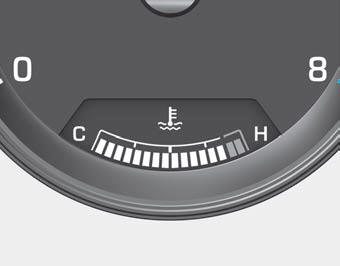 This gauge indicates the temperature of the engine coolant when the engine is running.
CAUTION
If the gauge pointer moves beyond the normal range area toward the "H" position, it indicates overheating that may damage the engine.
Do not continue driving with an overheated engine. If your vehicle overheats, refer to "If the Engine Overheats" in chapter 6.
WARNING
Never remove the radiator cap when the engine is hot. The engine coolant is under pressure and could severely burn. Wait until the engine is cool before adding coolant to the reservoir.
Other information:
IDB Terminal And Input / Output signal IDB terminal function Connector [C110-IDB] Pin No.DescriptionConnected to1-?2-?3-?4-?5-?6-?7-?8-?9-?10-?11-?12-?13-?14-?15-?16Injector (Cylinder #3) [Low] control outputInjector (Cylinder #3)17Injector (Cylinder #6) [Low] control outputInjector (Cylinder ...
Towing If the vehicle needs to be towed, call a professional towing service. It is very dangerous to tow a vehicle with just a rope or chain. Emergency Towing There are three popular methods of towing a vehicle : - Flat-bed Towing The operator loads the vehicle on the back of truck. ...