Hyundai Genesis: BCM (Body Control Module) / Components and Components Location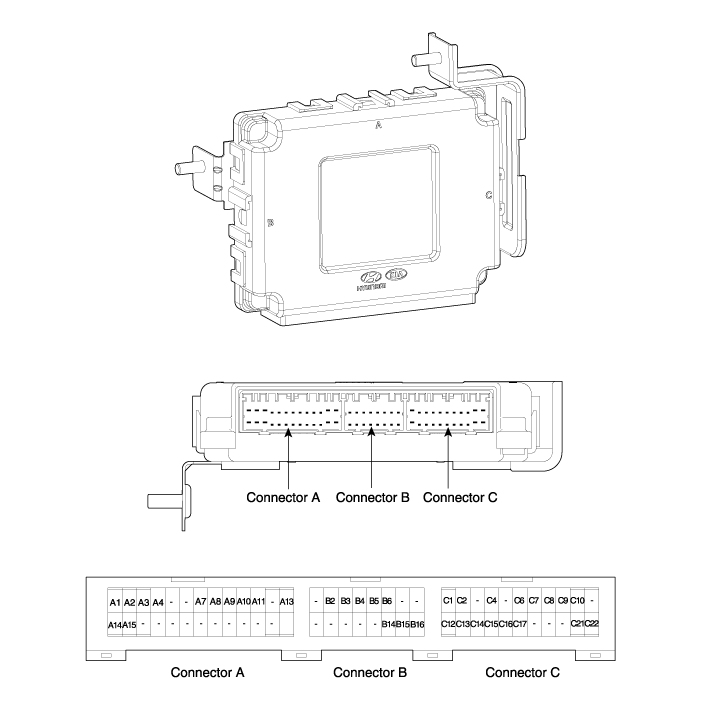 | | | | |
| --- | --- | --- | --- |
| NO | Connector A | Connector B | Connector C |
| 1 | Battery + | - | Room lamp Output |
| 2 | IGN1 | ECM Mirror + | Foot lamp Output |
| 3 | IGN2 | B CAN High | - |
| 4 | ACC | B CAN Low | - |
| 5 | - | PAS (LIN) | - |
| 6 | - | Integrated sensor (LIN) | L_Head lamp washer RLY_OUT |
| 7 | Rear Window Defroster switch | - | External buzzer output |
| 8 | parking brake switch | - | SSB light output |
| 9 | PAS off switch | - | Mood lamp output |
| 10 | Rear curtain switch | - | Rear curtain motor down Output |
| 11 | sunroof state | - | Rear curtain motor UP Output |
| 12 | - | - | ATM Solenoid outputs |
| 13 | Trunk open switch | - | Rear Seat belt light output(RH) |
| 14 | L_NADRI_OPT_IN | Rear Seat belt light output(LH) | Rear defogger light output |
| 15 | L_Deolicated DRI_OPT_IN | Rear Seat belt light output(Center) | PAS on light output |
| 16 | - | GND (Power) | safety belt light output (Assist) |
| 17 | - | ? | security light output |
| 18 | - | ? | - |
| 19 | - | ? | - |
| 20 | - | ? | - |
| 21 | - | ? | GND (Rear curtain motor) |
| 22 | - | ? | Rear curtain Power |
| 23 | - | ? | ? |
| 24 | - | ? | ? |
| 25 | - | ? | ? |
| 26 | GND | ? | ? |
Specifications ItemsSpecificationsRated voltageDC 12VOperating voltageDC 9 ~ 16VOperating temperature-30°C ~ 75°C (-4°F ~ 158°F)Dark currentNon keyless type : 3.0 mA ...
Other information:
Schematic Diagrams 1. Connector input/output No.DescriptionPin No.Description1Battery(+)20-2Solenoid RL (+)21-3Solenoid RR (+)22-4Solenoid FL (+)23-5Solenoid FR (+)24-6- 25G- sensor power7- 26Body G-sensor signal RR8- 27Body G-sensor signal FL9- 28Wheel G-sensor signal FR10- 29Wheel G-sensor ...
If your vehicle is equipped with the auto defogging system, it is automatically activated when the conditions are met. However, if you would like to cancel the auto defogging system, turn off the Auto defogging function in the AVN climate monitor. If the battery has been disconnected ...
© 2013-2022 www.hgenesisdh.com