Hyundai Genesis: BCM (Body Control Module) / Components and Components Location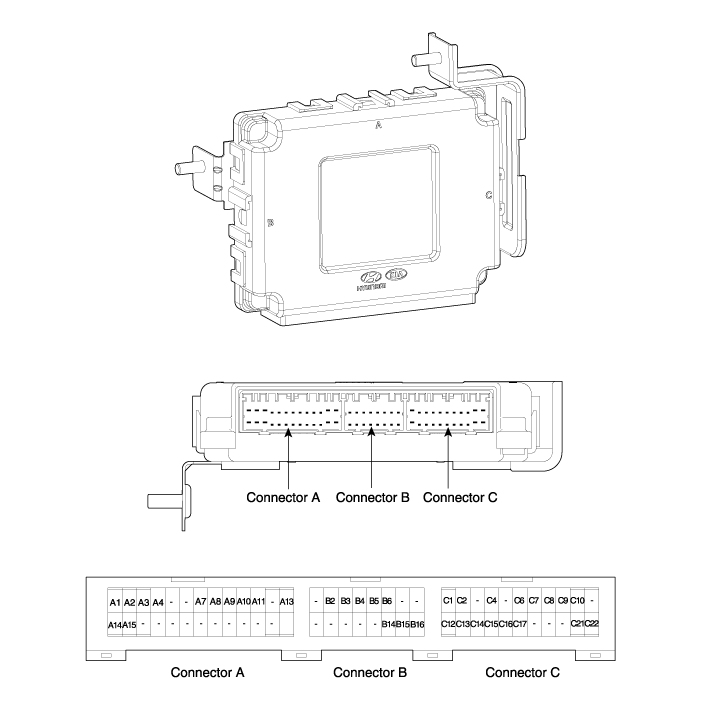 | | | | |
| --- | --- | --- | --- |
| NO | Connector A | Connector B | Connector C |
| 1 | Battery + | - | Room lamp Output |
| 2 | IGN1 | ECM Mirror + | Foot lamp Output |
| 3 | IGN2 | B CAN High | - |
| 4 | ACC | B CAN Low | - |
| 5 | - | PAS (LIN) | - |
| 6 | - | Integrated sensor (LIN) | L_Head lamp washer RLY_OUT |
| 7 | Rear Window Defroster switch | - | External buzzer output |
| 8 | parking brake switch | - | SSB light output |
| 9 | PAS off switch | - | Mood lamp output |
| 10 | Rear curtain switch | - | Rear curtain motor down Output |
| 11 | sunroof state | - | Rear curtain motor UP Output |
| 12 | - | - | ATM Solenoid outputs |
| 13 | Trunk open switch | - | Rear Seat belt light output(RH) |
| 14 | L_NADRI_OPT_IN | Rear Seat belt light output(LH) | Rear defogger light output |
| 15 | L_Deolicated DRI_OPT_IN | Rear Seat belt light output(Center) | PAS on light output |
| 16 | - | GND (Power) | safety belt light output (Assist) |
| 17 | - | ? | security light output |
| 18 | - | ? | - |
| 19 | - | ? | - |
| 20 | - | ? | - |
| 21 | - | ? | GND (Rear curtain motor) |
| 22 | - | ? | Rear curtain Power |
| 23 | - | ? | ? |
| 24 | - | ? | ? |
| 25 | - | ? | ? |
| 26 | GND | ? | ? |
Specifications ItemsSpecificationsRated voltageDC 12VOperating voltageDC 9 ~ 16VOperating temperature-30°C ~ 75°C (-4°F ~ 158°F)Dark currentNon keyless type : 3.0 mA ...
Other information:
Components 1. Front pillar trim2. Cowl side trim3. Front door scuff trim4. Front door step trim5. Center pillar upper trim6. Center pillar lower trim 7. Rear door scuff trim8. Rear door step trim9. Rear wheel house trim10. Rear pillar trim11. Rear package tray trim ...
Inside the fuse/relay box cover, you can find the fuse/relay label describing fuse/relay name and capacity. ✽ NOTICE Not all fuse panel descriptions in this manual may be applicable to your vehicle; the information is accurate at the time of printing. When you inspect the fuse pane ...
© 2013-2023 www.hgenesisdh.com