Hyundai Genesis: AVN System / AVN(Audio Video Navigation) head unit Components and Components Location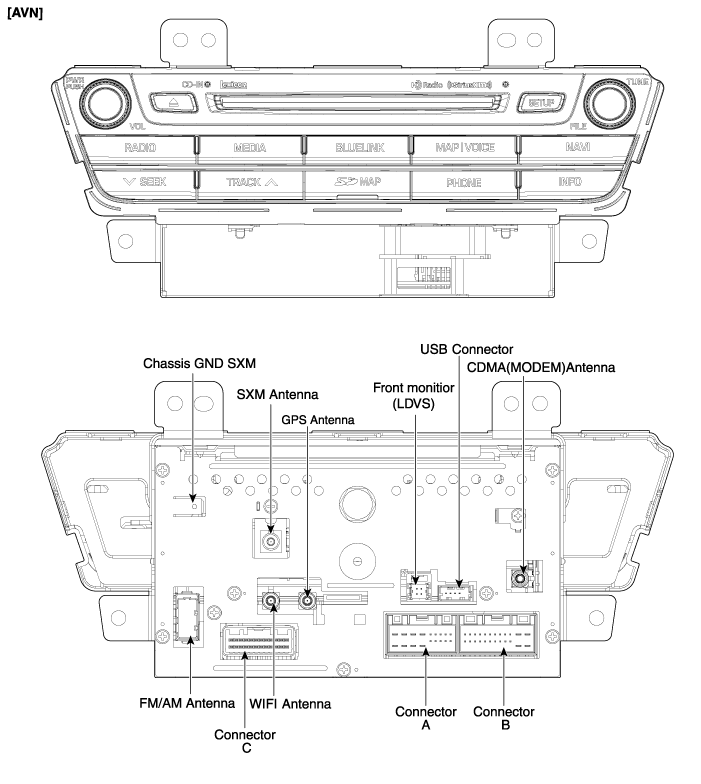 Connector Pin Information

No.




Connector A




Connector B




Connector C




1




-




Multmedia-CAN (High)




P-CAN (Low)




2




-




-




P-CAN (High)




3




-




-




Monitor touch_CAN (-)




4




-




-




Monitor touch_CAN (+)




5




SPDIF Shield GND




-




-




6




SPDIF (+)




MTS keypad signal




GND




7




-




AUX jack (Video)




Camera_C




8




Illumination (+)




AUX R input




Video GND_C




9




Reverse signal




AUX jack (Shield)




-




10




-




MIC (+)




-




11




-




B (+)




Body-CAN (High)




12




-




B (+)




Body-CAN (Low)




13




-




Multmedia-CAN (Low)




-




14




IGN 1 (+)




-




AIRBAG (Modem only)




15




SPDIF (-)




-




-




16




-




Vehicle speed




NAVI VOICE (-)




17




Illumination (-)




MTS keypad (GND)




NAVI VOICE (+)




18




Antenna B(+)




ACC




-




19




?




AUX jack (Shield)




-




20




AUX jack (Detect)




-




21




AUX L input




GND




22




MIC (-)




Video GND_Y




23




GND




Camera_Y




24




GND




Carmera B(+)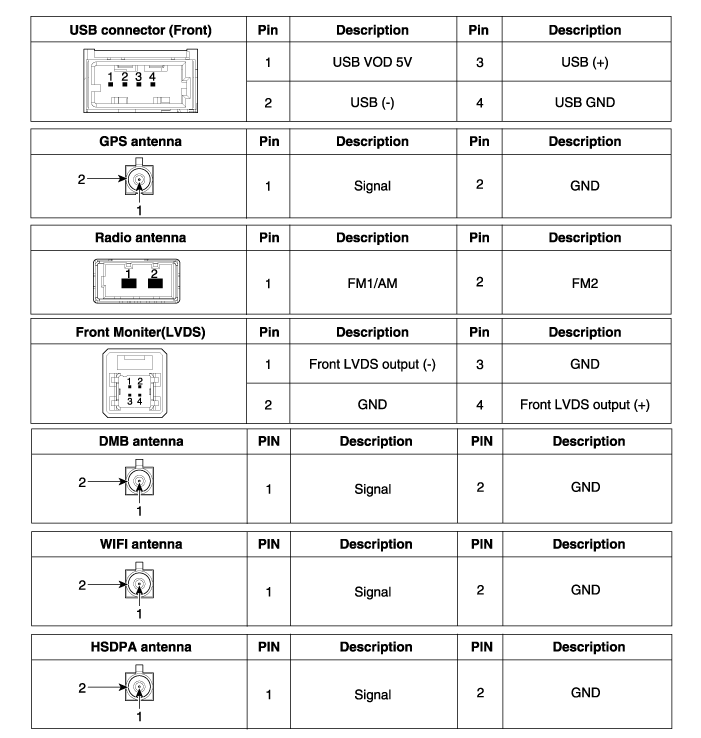 Description AVN system The AVN system has improved information search and easiness of manipulation for the driver by simplifying the system operation experience and unifying the display of the ...
Removal - Take care not to scratch the crash pad and related parts. - Eject all discs before removing the AVN head unit not to damage the DVD player's load mechanism. ...
Other information:
Adjustment Introduction It is necessary to check and input the calibration data when the controller is replaced as the characteristics of the internal frictional materials (clutch pack) change due to driving. Creation condition and calibration method 1. In case of replacing the transfe ...
Components Location 1. Head Up Display (HUD)2. Rheostat switch3. Cluster4. Light sensor5. Windshield glass (Wedge film applied) ...
© 2013-2022 www.hgenesisdh.com