Hyundai Genesis: Air Conditioning System / Ambient Temperature Sensor Description and Operation
The ambient temperature sensor is located inside the side mirror and detects ambient air temperature. It is a negative type thermistor; resistance will increase with lower temperature, and decrease with higher temperature.
The sensor output will be used for discharge temperature control, temperature regulation door control, blower motor level control, mix mode control and in-car humidity control.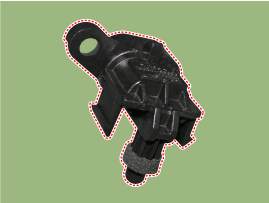 If the ambient temperature is below 1.0°C (33.8°F), the A/C compressor will stop operating.
The compressor will operate manually.
Inspection 1. Turn the ignition switch ON. 2. Connect the GDS. 3. Emit intensive light toward the photo sensor using a lamp, and check the output voltage change. 4. The voltage will ri ...
Inspection 1. Check the resistance of the ambient temperature sensor between terminals 1 and 2 whether it changes by changing the ambient temperature. 1. Ambient Sensor (+)2. Sensor ground ...
Other information:
Description Communication Network Diagram AbbreviationExplanationAAFActive Air FlapACUAirbag Control UnitADMAssist Door ModuleAHDActive Hood SystemAMPAmplifierARSArmrest SwitchASCCAdvanced Smart Cruise ControlAVMAround View MonitorAWDAll Wheel DriveB_CANBody Controller Area NetworkBCMBody Cont ...
Removal 1. Disconnect the negative (-) battery terminal. 2. Remove the front bumper. (Refer to Body - "Front Bumper Cover") 3. Disconnect the front fog lamp connector (A). 4. Remove the front fog lamp assembly (A) after loosening the mounting nut. Installation 1. Install the fr ...
© 2013-2022 www.hgenesisdh.com