Hyundai Genesis: Tire Pressure Monitoring System / TPMS Sensor Description and Operation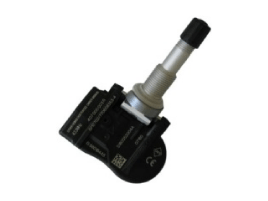 1.

WU is a sensor placed in the tire that reports pressure and temperature.

The WU is mounted inside the wheels, fixed to the valve. The angle between the valve and the housing of the WU is variable.

This allows adaptation to various types of rims.

The Wheel Unit is made of a PCB supporting the electronic hardware and encapsulated inside a housing which is potted with polyurethane.

It is self-powered by a battery and includes all systems for parameter measurement (pressure, temperature and centrifugal acceleration and optionally rotation direction), RF transmission and LF detection.

To achieve the specified battery lifetime, the WU supports various measurement and transmission timings, depending on WU operation mode.

For RF transmission, WU uses an internal antenna.
2.

: When vehicle start driving, Sensor enter Mode First Block.

Typical period of RF emissions is 16 sec. for 40 times for Auto-learning and Auto-location function.
3.

: After 19 min. parking and then finishing Mode First Block mode, WU enter Driving mode.

Typical period of RF emissions are 64 sec above 4g vehicle speed.
4.

: at below 3g Vehicle speed, enter Parking mode.

Typical periodicities of RF emissions are 13 hours.
Description Tread Lamp - Tire Under Inflation / Leak Warning. 1. Turn-on condition A. When tire pressure is below allowed threshold B. When rapid leak is detected by the sensor. 2 ...
Removal 1. Remove the valve core and deflate the tire. 2. Remove the side of the tire bead area from the wheel using tire changing machine . • The tire bead should ...
Other information:
WARNING Always wear appropriate shoes when operating your vehicle. Unsuitable shoes, such as high heels, ski boots, sandals, flip-flops, etc., may interfere with your ability to use the brake and accelerator pedals. Do not start the vehicle with the accelerator pedal depre ...
Replacement • Put on gloves to prevent hand injuries. • When removing with a flat-tip screwdriver or remover, wrap protective tape around the tools to prevent damage to components. • When removing the interior trim pieces, use a p ...
© 2013-2023 www.hgenesisdh.com