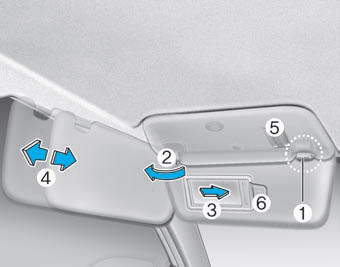 To use a sunvisor, pull it downward.
To use a sunvisor for a side window, pull it downward, unsnap it from the bracket (1) and swing it to the side (2).
To use the vanity mirror, pull down the sunvisor and slide the mirror cover (3).
Adjust the sunvisor forward or backward (4) as needed. Use the ticket holder (5 and 6) to hold tickets.
✽ NOTICE
Close the vanity mirror cover securely and return the sunvisor to its original position after use.
WARNING
For your safety, do not block your view when using the sunvisor.
CAUTION
Do not put several tickets in the ticket holder at one time. This could cause damage to the ticket holder.
Avoid putting a plastic card such as a credit card in the ticket holder located in the outside of the sunvisor. This could cause damage to the plastic card.
Other information:
■ Example • Type A ■ Example • Type B ■ Example • Type C The actual Jack label in the vehicle may differ from the illustration. 1. Model Name 2. Maximum allowable load 3. When using the jack, set your parking brake. 4. When using the jack, stop the engine. 5. Do not ...
Description Based on information from various sensors, the ECM can calculate the fuel amount to be injected. The fuel injector is a solenoid-operated valve and the fuel injection amount is controlled by length of injection time. The ECM controls each injector by grounding the control circ ...