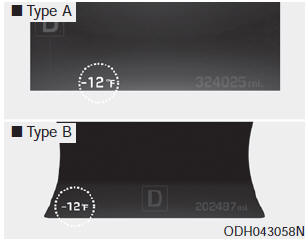 This gauge indicates the current outside air temperatures by 1°F (1°C).
- Temperature range : -40°F ~ 140°F (-40°C ~ 60°C)
The outside temperature on the display may not change immediately like a general thermometer to prevent the driver from being inattentive.
The temperature unit (from °C to °F or from °F to °C) can be changed as below procedures.
And, the temperature unit of the cluster and AVN monitor is changed at the same time.
- User Settings Mode in the Cluster : You can change the temperature unit in the "Other Features - Temperature unit" .
- Automatic climate control system : While pressing the OFF button, press the AUTO button for 3 seconds or more.
This indicator displays which automatic transmission shift lever is selected. Park :P Reverse : R Neutral : N Drive :D Sports Mode : 1, 2, 3, 4, 5, 6, 7, 8 ...
Other information:
Seat warmers Seat warmers are provided to warm the seats during cold weather. WARNING The seat warmers can cause a serious burn, even at low temperatures and especially if used for long periods of time. Passengers must be able to feel if the seat is becoming too warm so they can turn ...
Inspection • Thoroughly check connectors for looseness, poor connection, bending, corrosion, contamination, deterioration, or damage. Power Circuit Inspection 1. Disconnect the Inhibitor switch connector. 2. Turn the ignition key ON and the engine OFF. ...