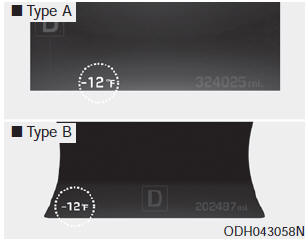 This gauge indicates the current outside air temperatures by 1°F (1°C).
- Temperature range : -40°F ~ 140°F (-40°C ~ 60°C)
The outside temperature on the display may not change immediately like a general thermometer to prevent the driver from being inattentive.
The temperature unit (from °C to °F or from °F to °C) can be changed as below procedures.
And, the temperature unit of the cluster and AVN monitor is changed at the same time.
- User Settings Mode in the Cluster : You can change the temperature unit in the "Other Features - Temperature unit" .
- Automatic climate control system : While pressing the OFF button, press the AUTO button for 3 seconds or more.
This indicator displays which automatic transmission shift lever is selected. Park :P Reverse : R Neutral : N Drive :D Sports Mode : 1, 2, 3, 4, 5, 6, 7, 8 ...
Other information:
Components 1. Air cleaner cover2. Air cleaner element3. Air cleaner body4. Air intake hose5. Resonator6. Intake air temperature sensor (IATS) ...
Inspection 1. Disconnect the negative (-)battery terminal. 2. Remove the overhead console. 3. Remove the hands-free mic(B) after loosening the screws and connector (A). 4. Check for the continuity between the mic terminals. ...