Hyundai Genesis: Ignition System / Ignition Coil Repair procedures
Ignition Coil #1
| | |
| --- | --- |
| 1. | Turn the ignition switch OFF and disconnect the battery negative (-) cable. |
| | |
| --- | --- |
| 2. | Remove the engine wiring protector (A) after loosening the bolt. |
| | |
| --- | --- |
| 3. | Disconnect the ignition coil connector (A). |
| | |
| --- | --- |
| 4. | Remove the ignition coil from engine after removing mounting bolt (B). |
Ignition Coil #2
| | |
| --- | --- |
| 1. | Turn the ignition switch OFF and disconnect the battery negative (-) cable. |
2.

Remove the surge tank assembly.

(Refer to Engine Mechanical System - "Surge Tank")
| | |
| --- | --- |
| 3. | Disconnect the ignition connector (A). |
| | |
| --- | --- |
| 4. | Remove the ignition coil from engine after removing mounting bolt (B). |
Ignition Coil #3
| | |
| --- | --- |
| 1. | Turn the ignition switch OFF and disconnect the battery negative (-) cable. |
| | |
| --- | --- |
| 2. | Remove the engine wiring protector (A) after loosening the bolt. |
| | |
| --- | --- |
| 3. | Disconnect the ignition coil connector (A). |
| | |
| --- | --- |
| 4. | Remove the ignition coil from engine after removing mounting bolt (B). |
Ignition Coil #4
| | |
| --- | --- |
| 1. | Turn the ignition switch OFF and disconnect the battery negative (-) cable. |
2.

Remove the surge tank assembly.

(Refer to Engine Mechanical System - "Surge Tank")
| | |
| --- | --- |
| 3. | Disconnect the ignition coil connector (A). |
| | |
| --- | --- |
| 4. | Remove the ignition coil from engine after removing mounting bolt (B). |
Ignition Coil #5
| | |
| --- | --- |
| 1. | Turn the ignition switch OFF and disconnect the battery negative (-) cable. |
| | |
| --- | --- |
| 2. | Remove the engine wiring protector (A) after loosening the bolt. |
| | |
| --- | --- |
| 3. | Disconnect the ignition coil connector (A). |
| | |
| --- | --- |
| 4. | Remove the ignition coil from engine after removing mounting bolt (B). |
Ignition Coil #6
| | |
| --- | --- |
| 1. | Turn the ignition switch OFF and disconnect the battery negative (-) cable. |
2.

Remove the surge tank assembly.

(Refer to Engine Mechanical System - "Surge Tank")
| | |
| --- | --- |
| 3. | Disconnect the ignition coil connector (A). |
| | |
| --- | --- |
| 4. | Remove the ignition coil from engine after removing mounting bolt (B). |
Do not confuse the ignition coil #2 with #4 connections.
Doing so may cause the engine to stall due to incomplete ignition. And, since unburned fuel flows into the catalyst, this can overheat and damage the catalyst.
A yellow tag (A) is attached to ignition coil #4. Use this tag for reference when connecting the ignition coils.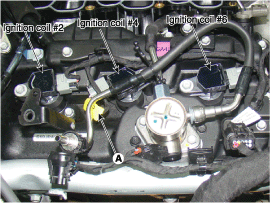 1.

Install in the reverse order of removal.

---

Ignition coil installation bolts:

9.8 ~ 11.8 N.m (1.0 ~ 1.2 kgf.m, 7.2 ~ 8.7 Ib-ft)

---
1.

Measure the primary coil resistance between terminals (+) and (-).

---

Standard value:

0.62? ± 10%

---
Description A spark plug is a device for delivering electric current from an ignition system to the combustion chamber of a spark-ignition engine to ignite the compressed fuel/air mixture there ...
Other information:
Specification [Throttle Position Sensor (TPS)] Throttle angle(°)Output Voltage (V)TPS1TPS200.54.5100.964.05201.413.59301.873.14402.322.68502.782.23603.231.77703.691.32804.140.86904.600.41984.650.35C.T (0)0.54.5W.O.T (86)4.410.59 [ETC Motor] ItemSpecificationCoil Resistance (?)0.3 ~100 [20° ...
Warning and Caution Labels 1. Radiator cap caution2. Fan caution3. Battery caution Attention Srs VehicleThis car is equipped with a supplemental restraint system. To provide continued reliability, certain elements of the supplemental restraint system shall be serviced or replaced by a ...
© 2013-2022 www.hgenesisdh.com