Hyundai Genesis: Ignition System / Ignition Coil Repair procedures
Ignition Coil #1
| | |
| --- | --- |
| 1. | Turn the ignition switch OFF and disconnect the battery negative (-) cable. |
| | |
| --- | --- |
| 2. | Remove the engine wiring protector (A) after loosening the bolt. |
| | |
| --- | --- |
| 3. | Disconnect the ignition coil connector (A). |
| | |
| --- | --- |
| 4. | Remove the ignition coil from engine after removing mounting bolt (B). |
Ignition Coil #2
| | |
| --- | --- |
| 1. | Turn the ignition switch OFF and disconnect the battery negative (-) cable. |
2.

Remove the surge tank assembly.

(Refer to Engine Mechanical System - "Surge Tank")
| | |
| --- | --- |
| 3. | Disconnect the ignition connector (A). |
| | |
| --- | --- |
| 4. | Remove the ignition coil from engine after removing mounting bolt (B). |
Ignition Coil #3
| | |
| --- | --- |
| 1. | Turn the ignition switch OFF and disconnect the battery negative (-) cable. |
| | |
| --- | --- |
| 2. | Remove the engine wiring protector (A) after loosening the bolt. |
| | |
| --- | --- |
| 3. | Disconnect the ignition coil connector (A). |
| | |
| --- | --- |
| 4. | Remove the ignition coil from engine after removing mounting bolt (B). |
Ignition Coil #4
| | |
| --- | --- |
| 1. | Turn the ignition switch OFF and disconnect the battery negative (-) cable. |
2.

Remove the surge tank assembly.

(Refer to Engine Mechanical System - "Surge Tank")
| | |
| --- | --- |
| 3. | Disconnect the ignition coil connector (A). |
| | |
| --- | --- |
| 4. | Remove the ignition coil from engine after removing mounting bolt (B). |
Ignition Coil #5
| | |
| --- | --- |
| 1. | Turn the ignition switch OFF and disconnect the battery negative (-) cable. |
| | |
| --- | --- |
| 2. | Remove the engine wiring protector (A) after loosening the bolt. |
| | |
| --- | --- |
| 3. | Disconnect the ignition coil connector (A). |
| | |
| --- | --- |
| 4. | Remove the ignition coil from engine after removing mounting bolt (B). |
Ignition Coil #6
| | |
| --- | --- |
| 1. | Turn the ignition switch OFF and disconnect the battery negative (-) cable. |
2.

Remove the surge tank assembly.

(Refer to Engine Mechanical System - "Surge Tank")
| | |
| --- | --- |
| 3. | Disconnect the ignition coil connector (A). |
| | |
| --- | --- |
| 4. | Remove the ignition coil from engine after removing mounting bolt (B). |
Do not confuse the ignition coil #2 with #4 connections.
Doing so may cause the engine to stall due to incomplete ignition. And, since unburned fuel flows into the catalyst, this can overheat and damage the catalyst.
A yellow tag (A) is attached to ignition coil #4. Use this tag for reference when connecting the ignition coils.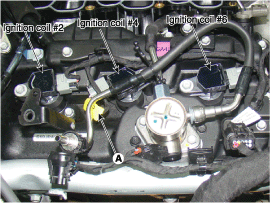 1.

Install in the reverse order of removal.

---

Ignition coil installation bolts:

9.8 ~ 11.8 N.m (1.0 ~ 1.2 kgf.m, 7.2 ~ 8.7 Ib-ft)

---
1.

Measure the primary coil resistance between terminals (+) and (-).

---

Standard value:

0.62? ± 10%

---
Description A spark plug is a device for delivering electric current from an ignition system to the combustion chamber of a spark-ignition engine to ignite the compressed fuel/air mixture there ...
Other information:
Component Location 1. Front seat back frame assembly2. Front seat cushion frame assembly ...
Basic Troubleshooting Basic Troubleshooting Guide Customer Problem Analysis Sheet Basic Inspection Procedure Measuring Condition of Electronic Parts' Resistance The resistance measured at high temperature after running the vehicle may be high or low. So all resistance must be measured at ...
© 2013-2021 www.hgenesisdh.com