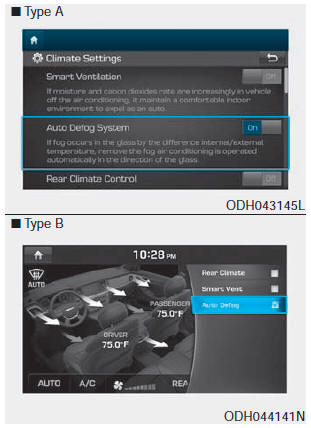 If your vehicle is equipped with the auto defogging system, it is automatically activated when the conditions are met.
However, if you would like to cancel the auto defogging system, turn off the Auto defogging function in the AVN climate monitor.
If the battery has been disconnected or discharged, it resets to the auto defogging status.
✽ NOTICE
When the air conditioning is turned on and the outside air position is selected by the auto defogging system, if you try to turn off the air conditioning and select the recirculated air position, the indicator will blink 3 times and the air conditioning will not be turned off and recirculated air position will not be selected.
CAUTION
Do not remove the sensor cover located on the upper end of the driver side windshield glass. Damage to system parts could occur and may not be covered by your vehicle warranty.
Cluster ionizer When the Engine Start/Stop button is in the ON position, the clean air function turns on automatically. Also, the clean air function turns off automatically, when the Engine ...
Other information:
Inspection Front Seat Heater 1. Check for continuity and measure the resistance between terminals. Standard value (Fabric / Leather) Driver / Assists (cushion + back): 1.63?±10% 2. Operate the seat heater after connecting the connector, and then check the thermostat by measuring t ...
Removal • Use fender covers to avoid damaging painted surfaces. • To avoid damaging the cylinder head, wait until the engine coolant temperature drops below normal temperature (20°C [68°F]) before removing it. • When handling a metal gasket, take ...