Using All Wheel Drive (AWD)
The All Wheel Drive (AWD) System delivers engine power to and rear wheels for maximum traction. AWD is useful when extra traction is required, such as when driving on slippery, muddy, wet, or snow-covered roads.
If the system determines there is a need for four wheel drive, the engine's driving power is distributed to all four wheels automatically.
WARNING
If the AWD warning light (

) stays on the instrument cluster, your vehicle may have a malfunction with the AWD system.
When the AWD warning light (

) illuminates have your vehicle checked by an authorized HYUNDAI dealer as soon as possible.
WARNING
To reduce the risk of SERIOUS INJURY or DEATH:
Do not drive in conditions that exceed the vehicles intended design such as challenging off-road conditions.
Avoid high speeds when cornering or turning.
Do not make quick steering wheel movements, such as sharp lane changes or fast, sharp turns.
The risk of a rollover is greatly increased if you lose control of your vehicle at highway speeds.
Loss of control often occurs if two or more wheels drop off the roadway and the driver over steers to reenter the roadway.
In the event your vehicle leaves the roadway, do not steer sharply. Instead, slow down before pulling back into the travel lanes.
Always drive safely and use caution when driving an AWD vehicle.
✽ NOTICE
Do not drive in water if the level is higher than the bottom of the vehicle.
Check your brake condition once you are out of mud or water. Depress the brake pedal several times as you move slowly until you feel normal braking return.
Shorten your scheduled maintenance interval if you drive in offroad conditions such as sand, mud or water (see "Maintenance Under Severe Usage Conditions" in chapter 7).
Make sure that an AWD vehicle is towed by flatbed tow truck.
For safe AWD operation
Before driving
Make sure all passengers are wearing seat belts.
Sit upright and adjust the steering wheel to a position comfortable for you to drive.
Driving on snow-covered or icy roads
Start off slowly by applying the accelerator pedal gently.
Use of snow tires is recommended. For more information on Snow Tires refer to "Winter Driving" in this chapter.
Keep sufficient distance between your vehicle and the vehicle in front of you.
Use engine braking during deceleration.
Avoid speeding, rapid acceleration, sudden brake applications, and sharp turns to prevent skids.
Driving in sand or mud
Maintain slow and constant speed.
Keep sufficient distance between your vehicle and the vehicle in front of you.
Reduce vehicle speed and always check the road condition.
Avoid speeding, rapid acceleration, sudden brake applications, and sharp turns to prevent getting stuck.
CAUTION
When the vehicle is stuck in snow, sand or mud, avoid running the engine continuously at high rpm, doing so may damage the tires, transmission, differential or, AWD system.
Driving up or down hills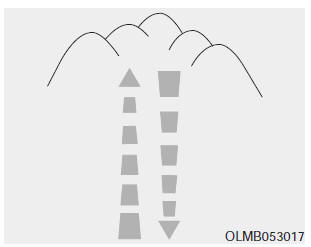 • Driving uphill
- Before starting off, check if it is possible to drive uphill.
- Drive as straight as possible.
• Driving downhill
- Do not change gear while driving downhill. Select gear before driving downhill.
- Drive as slowly using engine braking while driving downhill.
- Drive straight as possible.
WARNING
Exercise extreme caution driving up or down steep hills. The vehicle may flip depending on the grade, terrain and water/mud conditions.
Other information:
Special Service Tools ItemIllustrationApplicationFuel Pressure Gauge(09353-24100)Measuring the fuel line pressureFuel Pressure Gauge Adapter(09353-02100)Connection between the high pressure fuel pump and the fuel feed lineHeated Oxygen Sensor Socket Wrench(09392-1Y100)Removal and installation o ...
Inspection [System Inspection] 1. Disconnect the vapor hose from the throttle body and connect a vacuum pump to the nipple on the throttle body. 2. Using the vacuum pump, check the following items by applying vacuum. • At Cold Engine [Engine Coolant Temperature < 60°C(140°F)] En ...