Tires
WARNING
Do not use tire and wheel with different size and type from the one originally installed on your vehicle. It can affect the safety and performance of your vehicle, which could lead to steering failure or rollover causing serious injury.
When replacing the tires, be sure to equip all four tires with the tire and wheel of the same size, type, tread, brand and load-carrying capacity.
In an emergency situation, a compact spare tire may be used. But, do not use the compact spare tire continuously. Repair or replace the original tire as soon as possible to avoid failure of the differential or AWD system.
WARNING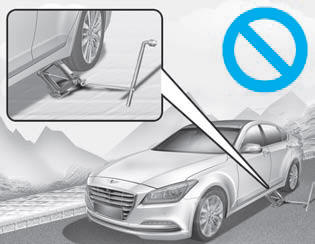 Never start or run the engine while an AWD vehicle is raised on a jack.The vehicle can slip or roll off of a jack causing serious injury or death to you or those nearby.
Towing
AWD vehicles must be towed with a wheel lift and dollies or flatbed equipment with all the wheels off the ground.
Vehicle inspection
When the vehicle is on a car lift, do not operate the front and rear wheels separately. All four wheels should be operated.
Never engage the parking brake while running the engine on a car lift. This may damage the AWD system.
Other information:
Specification ItemSpecificationProduct nameTransfer caseOperation methodElectronic actuator control method (BLDC motor)Torque capacity1,100 NmWeight25 kg (Oil injection state) Tightening Torques Item N.m Kgf.m lb-ftBolt for fixing the transfer case29.4 ~ 41.23.0 ~ 4.221. ...
Component Location 1. Rear seat belt buckle [RH]2. Rear seat belt buckle [LH] ...