Hyundai Genesis: Automatic Transmission Control System / 6 Speed Clutch Control Solenoid Valve Schematic Diagrams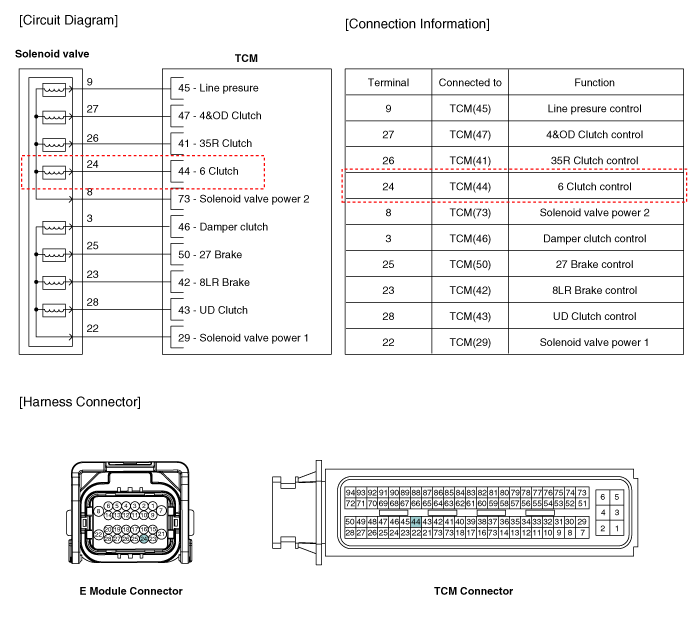 Specifications Direct control VFS[6/C] ? Control type : Normal low type Control Pressure kpa (kgf/cm?, psi)0~1569.06 (0~16,0~227.57)Current value(mA)0~1100 Internal resistance( ...
Inspection 1. Turn ignition switch OFF. 2. Disconnect the E Module connector. 3. Measure resistance between solenoid valve terminals. 4. Check that the resistance is within the spec ...
Other information:
Schematic Diagrams 1. Connector input/output No.DescriptionPin No.Description1Battery(+)20-2Solenoid RL (+)21-3Solenoid RR (+)22-4Solenoid FL (+)23-5Solenoid FR (+)24-6- 25G- sensor power7- 26Body G-sensor signal RR8- 27Body G-sensor signal FL9- 28Wheel G-sensor signal FR10- 29Wheel G-sensor ...
The SRS is virtually maintenancefree and there are no parts you can safely service by yourself. If the SRS air bag warning light does not illuminate when the Engine Start/Stop button is in the ON position, or continuously remains on, have your vehicle immediately inspected by an author ...
© 2013-2023 www.hgenesisdh.com