Hyundai Genesis: Engine Control System / Variable Intake Solenoid (VIS) Valve Description and Operation
Variable Intake manifold Solenoid (VIS) valves are installed on the intake manifold (VIS Valve 1) and the surge tank (VIS Valve 2). These VIS valve 1 and 2 control vacuum modulators which activate valves in the intake manifold and the surge tank. These valves opens or closes by ECM according to engine condition (Refer to the table below).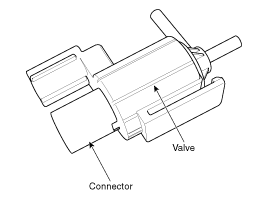 Inspection 1. Turn the ignition switch OFF. 2. Disconnect the OCV connector. 3. Measure resistance between the OCV terminals 1 and 2. 4. Check that the resistance is within the specifi ...
Specification ItemSpecificationCoil Resistance (?)30.0 ~ 35.0 [20°C(68°F)] ...
Other information:
Removal • In order to remove the rear glass, use the tools shown in the following figure: [Tooling Diagram] Square wire Insert-type wire grip [Tooling Assembly Diagram] • Insert and affix square wire into the insert hole of the wire grip . 1. Remov ...
Schematic Diagrams 1. Connector input/output No.DescriptionPin No.Description1Battery(+)20-2Solenoid RL (+)21-3Solenoid RR (+)22-4Solenoid FL (+)23-5Solenoid FR (+)24-6- 25G- sensor power7- 26Body G-sensor signal RR8- 27Body G-sensor signal FL9- 28Wheel G-sensor signal FR10- 29Wheel G-sensor ...
© 2013-2022 www.hgenesisdh.com