This type of seat belt combines the features of both an emergency locking retractor seat belt and an automatic locking retractor seat belt. Convertible retractor type seat belts are installed in the rear seat positions to help accommodate the installation of child restraint systems. Although a convertible retractor is also installed in the front passenger seat position, NEVER place any infant/child restraint system in the front seat of the vehicle.
To fasten your seat belt:
Pull the seat belt out of the retractor and insert the metal tab into the buckle. There will be an audible "click" when the tab locks into the buckle. When not securing a child restraint, the seat belt operates in the same way as the driver's seat belt (Emergency Locking Retractor Type). It automatically adjusts to the proper length only after the lap belt portion of the seat belt is adjusted manually so that it fits snugly across your hips.
When the seat belt is fully extended from the retractor to allow the installation of a child restraint system, the seat belt operation changes to allow the belt to retract, but not to extend (Automatic Locking Retractor Type). Refer to "Using a Child Restraint System" in this chapter.
✽ NOTICE
Although the seat belt retractor provides the same level of protection for seated passengers in either emergency or automatic locking modes, the emergency locking mode allows seated passengers to move freely in their seat while keeping some tension on the belt. During a collision or sudden stop, the retractor automatically locks the belt to help restrain your body. To deactivate the automatic locking mode, allow the unbuckled seat belt to fully retract.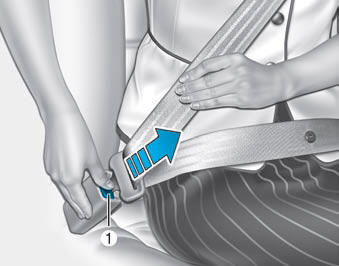 To release your seat belt:
Press the release button (1) in the locking buckle.
When it is released, the belt should automatically draw back into the retractor. If this does not happen, check the belt to be sure it is not twisted, then try again.
Other information:
Replacement • Put on gloves to prevent hand injuries. • When removing with a flat-tip screwdriver or remover, wrap protective tape around the tools to prevent damage to components. • Take care not to scratch the body surface. ...
Components 1. Drive belt2. Drive belt tensioner3. Crankshaft pulley4. Water pump pulley5. Idler6. Cylinder head cover7. Exhaust camshaft OCV cap 1. Timing chain cover2. Oil pump sprocket3. Oil pump chain 4. Oil pump tensioner assembly5. Crankshaft oil pump sprocket6. Crankshaft RH chain sp ...