Hyundai Genesis: Engine Control System / Manifold Absolute Pressure Sensor (MAPS) Description and Operation
Manifold Absolute Pressure Sensor (MAPS) is a speed-density type sensor and is installed on the surge tank. It senses absolute pressure of the surge tank and transfers the analog signal proportional to the pressure to the ECM.
By using this signal, the ECM calculates the intake air quantity and engine speed.
The MAPS consists of a piezo-electric element and a hybrid IC amplifying the element output signal. The element is silicon diaphragm type and adapts pressure sensitive variable resistor effect of semi-conductor.
Because one side of the silicon diaphragm is 100% vacuum and the other is affected by the manifold pressure, this sensor can output analog signal by using the silicon variation proportional to pressure change.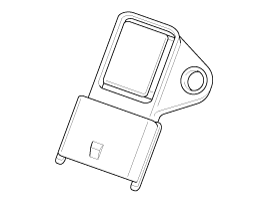 Inspection 1. Turn the ignition switch OFF. 2. Disconnect the IATS connector. 3. Measure resistance between the IATS terminals 3 and 4. 4. Check that the resistance is within the speci ...
Specification Pressure (kPa)Output Voltage (V)20.00.7946.661.84101.324.0 ...
Other information:
Description Passenger Airbag (PAB) module is located in the passenger crash pad. This PAB contains 2 firing squibs of airbag and 1 firing squib of active vent. Depending of crash speed or the tightening of seat belt, it is decided a timing about both 2 firing squibs of airbag and 1 firing ...
Removal 1. Disconnect the negative (-) battery terminal. 2. Remove the trunk lid trim after opening the trunk. (Refer to Body - "Trunk Lid Trim") 3. Remove the power latch (A) after disconnecting the connector (B) and mounting bolts. 4. Remove the power cinching actuator (A) after d ...
© 2013-2021 www.hgenesisdh.com