Hyundai Genesis: Lane Keeping Assist System (LKAS) / LKAS malfunction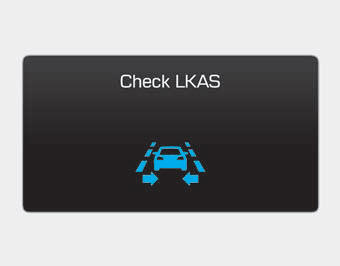 If there is a problem with the system a message will appear for 2 seconds. If the problem continues the LKAS failure indicator will illuminate.
LKAS failure indicator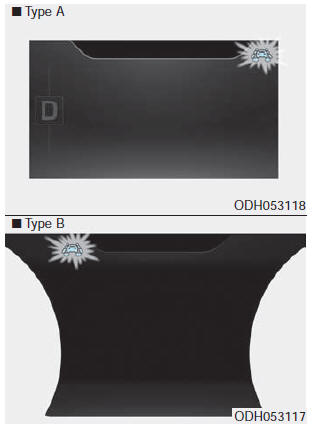 The LKAS failure indicator (yellow) will illuminate if the LKAS is not working properly. Have your vehicle checked by an authorized HYUNDAI dealer.
When there is a problem with the system do one of the following:
Turn the system on after turning the engine off and on again.
Check if the Engine Start/Stop button is in the ON position.
Check if the system is affected by the weather. (ex: fog, heavy rain, etc.)
Check if there is foreign matter on the camera lens.
If the problem is not solved, have your vehicle checked by an authorized HYUNDAI dealer.
If you cross a lane line, the lane line you cross will blink (yellow) on the LCD display with steering wheel vibration warning. If the steering wheel appears, the system will contro ...
The driver can change LKAS to Lane Departure Warning System (LDWS) or change the LKAS mode between Pre-Departure Control and Post- Departure Control from the User Settings Mode on the LCD displa ...
Other information:
Circuit Diagram ESC connector input/output Pin NoDescriptionCurrent(m/A)Resistance(m/?)MAX1Battery 2 (+) 137102POWERTRAIN CAN LOW302503---4---5---6---7---8---9---10---11Parking brake switch1025012---13Ground1371014POWERTRAIN CAN HIGH3025015Auto Hold Switch 1025016Stop Lamp Switch1025017Wheel s ...
Component Location 1. Burglar horn2. BCM3. Door lock / unlock buzzer4. Front door lock actuator & switch5. Rear door lock actuator &switch6. (Power Trunk Module) Actuators & Switch7. DDM (Driver Door Module)8. ADM (Assist Door Module)9. RLDM (Rear Left Door Module)10. RRDM (Rear Rig ...
© 2013-2023 www.hgenesisdh.com