Opening the hood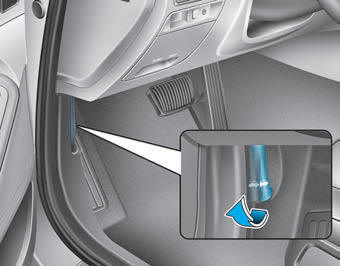 1. Park the vehicle and set the parking brake.
2. Pull the release lever to unlatch the hood. The hood should pop open slightly.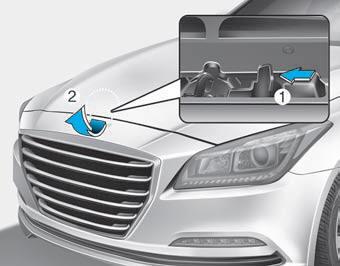 3. Raise the hood slightly, push the secondary latch up (1) inside of the hood center and lift the hood (2). After it has been raised about halfway, it will raise completely by itself.
Closing the hood
1. Before closing the hood, check the following:
All filler caps in engine compartment must be correctly installed.
Gloves, rags or any other combustible material must be removed from the engine compartment.
2. Lower the hood halfway and push down to securely lock in place. Then double check to be sure the hood is secure.
WARNING
Before closing the hood, ensure all obstructions are removed from around hood opening.
Always double check to be sure that the hood is firmly latched before driving away. If it is not latched, the hood could open while the vehicle is being driven, causing a total loss of visibility, which might result in an accident.
Do not move the vehicle with the hood in the raised position, as vision is obstructed, which might result in an accident, and the hood could fall or be damaged.
Other information:
Specifications Direct control VFS[27/B] ? Control type : Normal low type Control Pressure kpa (kgf/cm?, psi)0~1569.06 (0~16,0~227.57)Current value(mA)0~1100 Internal resistance(?)5.0~5.6 ...
Go to the User Settings Mode (Driving Assist) and undo the check for AEB (Autonomous Emergency Braking) on the LCD display (For more details refer to "LCD Display" in chapter 3.). The warning operation and automatic braking operation will not function. To turn on the AEB, ...