Opening the hood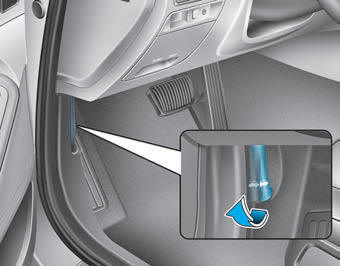 1. Park the vehicle and set the parking brake.
2. Pull the release lever to unlatch the hood. The hood should pop open slightly.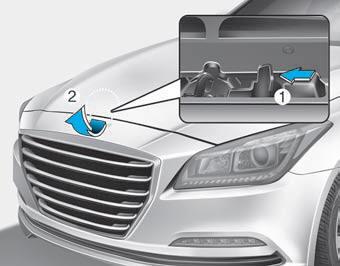 3. Raise the hood slightly, push the secondary latch up (1) inside of the hood center and lift the hood (2). After it has been raised about halfway, it will raise completely by itself.
Closing the hood
1. Before closing the hood, check the following:
All filler caps in engine compartment must be correctly installed.
Gloves, rags or any other combustible material must be removed from the engine compartment.
2. Lower the hood halfway and push down to securely lock in place. Then double check to be sure the hood is secure.
WARNING
Before closing the hood, ensure all obstructions are removed from around hood opening.
Always double check to be sure that the hood is firmly latched before driving away. If it is not latched, the hood could open while the vehicle is being driven, causing a total loss of visibility, which might result in an accident.
Do not move the vehicle with the hood in the raised position, as vision is obstructed, which might result in an accident, and the hood could fall or be damaged.
Other information:
To equalize tread wear, HYUNDAI recommends that the tires be rotated every 7,500 miles (12,000 km) or sooner if irregular wear develops. During rotation, check the tires for correct balance. When rotating tires, check for uneven wear and damage. Abnormal wear is usually caused by incor ...
The driver's and front passenger's seats are equipped with adjustable headrests for the passengers safety and comfort. Forward and rearward adjustment The headrest may be adjusted forward to 3 different positions by pulling the headrest forward to the desired detent. To adjust ...