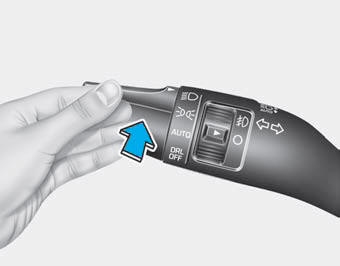 To turn on the high beam headlamp, push the lever away from you. The lever will return to its original position.
The high beam indicator will light when the headlamp high beams are switched on.
To turn off the high beam headlamp, pull the lever towards you. The low beams will turn on.
WARNING
Do not use high beam when there are other vehicles approaching you. Using high beam could obstruct the other driver's vision.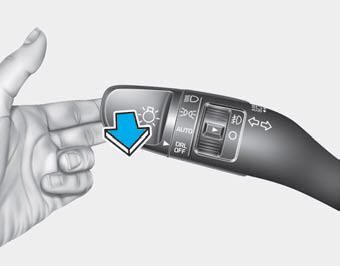 To flash the high beam headlamp, pull the lever towards you, then release the lever. The high beams will remain ON as long as you hold the lever towards you.
Lighting control To operate the lights, turn the knob at the end of the control lever to one of the following positions: (1) DRL OFF position (2) AUTO light position (3) Parking lamp posit ...
Other information:
The Smart Cruise Control uses a sensor to detect distance to the vehicle ahead. Sensor warning message If the sensor or cover is dirty or obscured with foreign matter such as snow, this message will appear. In this case, the system may not function temporarily, but it does not indi ...
Replacement and Air Bleeding Never remove the radiator cap when the engine is hot. A serious scalding could be caused by high-pressure hot fluid escaping from the radiator. When pouring engine coolant, be sure to shut the relay box lid and not ...