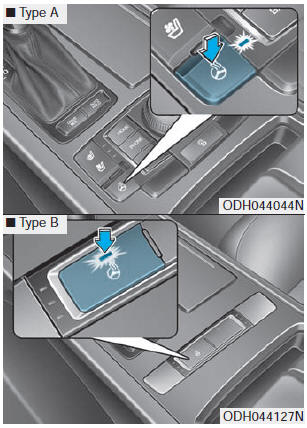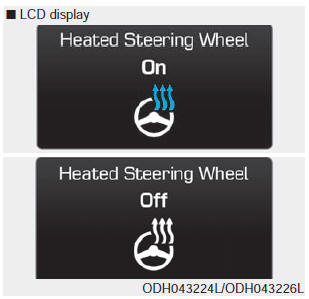 When the Engine Start/Stop button is in the ON position, press the heated steering wheel button to warm the steering wheel. The indicator on the button will illuminate and notify you on the LCD display.
To turn the heated steering wheel off, press the button again. The indicator on the button will turn off and notify you on the LCD display.
✽ NOTICE
The heated steering wheel will turn off automatically approximately 30 minutes.
CAUTION
Do not install any cover or accessory on the steering wheel. This cover or accessory could cause damage to the heated steering wheel system.
Adjust the steering wheel so it points toward your chest, not toward your face. Make sure you can see the instrument panel warning lights and gauges. After adjusting, push the steering wheel ...
To sound the horn, press the area indicated by the horn symbol on your steering wheel (see illustration). The horn will operate only when this area is pressed. CAUTION Do not strike the ho ...
Other information:
Description Knocking is a phenomenon characterized by undesirable vibration and noise and can cause engine damage. The two Knock Sensors (KS) are installed inside the V-valley of the cylinder block and sense engine knocking. When knocking occurs, the vibration from the cylinder block is ap ...
System Circuit Diagram Terminal Function Description1Ground 2HAC/DBC Signal (Active Low)3ESS Signal (Active Low)4Stop lamp5Stop lamp switch6ECU/ SMK7ESS Signal (Active High)8Battery ...