Adjust the steering wheel so it points toward your chest, not toward your face. Make sure you can see the instrument panel warning lights and gauges. After adjusting, push the steering wheel both up and down to be certain it is locked in position. Always adjust the position of the steering wheel before driving.
WARNING
NEVER adjust the steering wheel while driving. This may cause loss of vehicle control resulting in an accident.
Manual type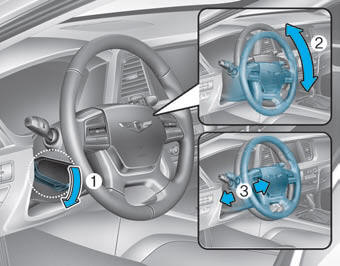 To change the steering wheel angle and height:
1. Pull down the lock-release lever (1).
2. Adjust the steering wheel to the desired angle (2) and height (3).
3. Pull up the lock-release lever to lock the steering wheel in place.
Electric type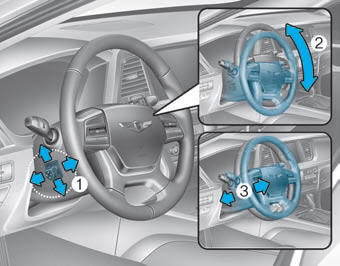 To change the steering wheel angle and height:
Move the switch (1) up and down to adjust the angle (2).
Move the switch forward or rearward to adjust the height (3).
CAUTION
Do not adjust the steering wheel longer than necessary when the engine is turned off. This may result in unnecessary battery drain.
The system assists you with steering the vehicle. If the engine is turned off or if the power steering system becomes inoperative, you may still steer the vehicle, but it will require increa ...
Other information:
Removal 1. Disconnect the battery negative cable and wait for at least three minutes before beginning work. 2. Put a flat tool(O4mm) into a guide hole located in the bottom of steering wheel and press a spring. When put a tool into a hole, make sure not to damage an ...
Removal Use caution when handling the transfer case. Preventing the ITA (Integrated Transfer case Actuator ) from damage 1) In case of transporting the transfer case • Use caution when lifting the transfer case from the transporting package to make sure the ITA d ...