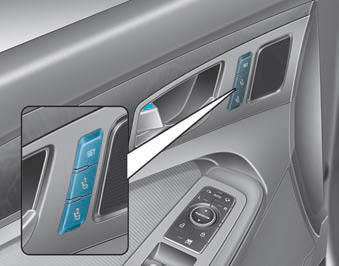 The Driver Position Memory System is provided to store and recall the following memory settings with a simple button operation.
- Driver's seat position
- Outside rearview mirror position
- Steering wheel position
- Instrument panel illumination intensity
- Head Up Display (HUD) position and brightness
WARNING
Never attempt to operate the driver position memory system while the vehicle is moving.
This could result in loss of control, and an accident causing death, serious injury, or property damage.
✽ NOTICE
If the battery is disconnected, the position memory will be lost and the driving positions must be stored in the system again.
If the Driver Position Memory System does not operate normally, have the system checked by an authorized HYUNDAI dealer
1. Check that the shift lever is in P (Park) while the Engine Start/Stop button is in the ON position. 2. Adjust the driver's seat position, outside rearview mirror position, steering wheel p ...
Other information:
Components 1. LH cylinder head cover2. LH cylinder head cover gasket3. LH exhaust CVVT OCV cap4. RH cylinder head cover5. RH cylinder head cover gasket6. RH exhaust CVVT OCV cap ...
Components 1. ECU2. Front Continuously Variable Damper3. Wheel G-Sensors4. Rear Continuously Variable Damper5. Body G-Sensors Components Location ECS-ECU Body G-Sensors [Right Front] [Left Front] [Right Rear] Wheel G-Sensors [2EA] Front Continuously Variable Damper [2EA] Rear C ...