If the plastigage shows the clearance is still incorrect, try the next larger or smaller bearing (refer to the crankshaft bearing selection table), and check clearance again.
If the proper clearance cannot be obtained by using the appropriate larger or smaller bearings, replace the crankshaft and start over.
If the marks are indecipherable because of an accumulation of dirt and dust, do not scrub them with a wire brush or scraper. Clean them only with solvent or detergent.
Crankshaft bore mark location
Letters have been stamped on the block as a mark for the size of each of the 4 main journal bores.
To choose correct bearings, check the size marks of both the journal bore and the journal outer diameter, stamped on the block and crankshaft, respectively.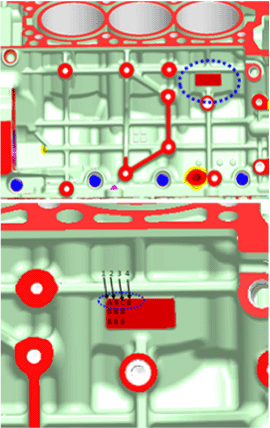 Discrimination of Cylinder Block
Class




Mark




Inside Diameter




a




A




73.500 ~ 73.506 mm




(2.8937 ~ 2.8939 in.)




b




B




73.506 ~ 73.512 mm




(2.8939 ~ 2.8942 in.)




c




C




73.512 ~ 73.518 mm




(2.8942 ~ 2.8944 in.)



Crankshaft Journal Mark Location
Discrimination of Crankshaft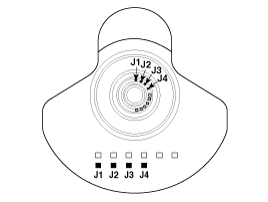 Discrimination of Crankshaft
Class




Mark




Outside Diameter Of Journal




I




1 or A




68.954 ~ 68.960 mm




(2.7147 ~ 2.7150 in.)




II




2 or B




68.948 ~ 68.954 mm




(2.7145 ~ 2.7147 in.)




III




3 or C




68.942 ~ 68.948 mm




(2.7142 ~ 2.7145 in.)



Place of Identification Mark (Crankshaft Bearing)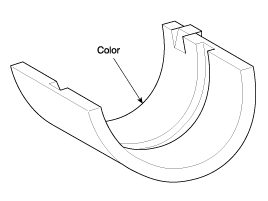 Discrimination of Crankshaft
Class




Mark




Thickness Of Bearing




E




BLUE




2.276 ~ 2.279 mm




(0.0896 ~ 0.0897 in.)




D




BLACK




2.273 ~ 2.276 mm




(0.0895 ~ 0.0896 in.)




C




RED




2.270 ~ 2.273 mm




(0.0894 ~ 0.0895 in.)




B




GREEN




2.267 ~ 2.270 mm




(0.0893 ~ 0.0894 in.)




A




YELLOW




2.264 ~ 2.267 mm




(0.0891 ~ 0.0893 in.)



Selection
?




Crankshaft Bore Identification Mark




a(A)




b(B)




c(C)




Crankshaft Identification Mark




1 or A




A




(YELLOW)




B




(GREEN)




C




(RED)




2 or B




B




(GREEN)




C




(RED)




D




(BLACK)




3 or C




C




(RED)




D




(BLACK)




E




(BLUE)