Hyundai Genesis: Engine Control System / Barometric Pressure Sensor (BPS) Description and Operation
Barometric Pressure Sensor (BPS) is a speed-density type sensor and is installed on the air cleaner assembly. It senses absolute pressure of the air cleaner assembly and transfers the analog signal proportional to the pressure to the ECM. By using this signal, the ECM calculates the intake air quantity and engine speed.
The BPS consists of a piezo-electric element and a hybrid IC amplifying the element output signal. The element is silicon diaphragm type and adapts pressure sensitive variable resistor effect of semi-conductor. Because one side of the silicon diaphragm is 100% vacuum and the other is affected by the manifold pressure, this sensor can output analog signal by using the silicon variation proportional to pressure change.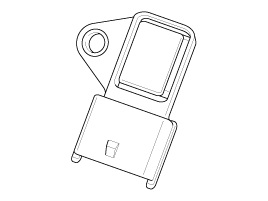 Inspection If idle rpm is unstable or engine stops, check the ETC module operation with GDS diagnostic tool. And if necessary, clean carbon in the throttle body. 1. Connect the GDS to the Data ...
Specification Pressure (kPa)Output Voltage (V)10.00.5055.02.21100.03.93115.04.50 ...
Other information:
Since the sidewalls on some radial tires are thinner than other types of tires, they may be damaged by mounting certain types of tire chains on them. Therefore, the use of snow tires is recommended instead of tire chains. Do not mount tire chains on vehicles equipped with aluminum ...
Components 1. LKAS ON/OFF Switch2. Instrument Cluster3. LKAS Unit ...
© 2013-2023 www.hgenesisdh.com