Hyundai Genesis: Autonomous Emergency Braking (AEB) / Warning light and message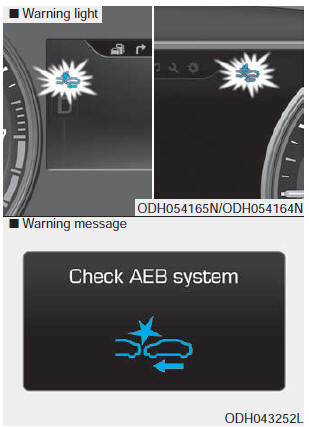 When the AEB system is turned off, the AEB warning light turns on. (Warning message does not come on.)
If the sensor or cover is dirty or obscured with foreign matter such as snow, the AEB warning light and message comes on. In this case, the AEB system may not function temporarily, but it does not indicate a malfunction of the AEB system. Clean the sensor or cover by using a soft cloth.
If there is a malfunction with the AEB system, the AEB warning light and message will come on. Have your vehicle checked by an authorized HYUNDAI dealer.
When the ESC (Electronic Stability Control) indicator or SCC (Smart Cruise Control) message comes on the AEB warning message may come on but it does not indicate a malfunction of the AEB system.
WARNING
Even if there is a malfunction to the brake operation of the AEB, when you depress the brake pedal, the brake operates normally. AEB brake operation does not operate in certain hazardous situations.
The AEB is designed to function above approximately 5 mph (8 km/h) and below approximately 110 mph (180 km/h).
The AEB does not detect:
- Persons or animals.
- Oncoming vehicles in the opposite lane or a vehicle in an intersection.
- Stopped objects.
The AEB cannot detect objects, when:
- The sensors are covered with dirt.
- There is heavy rain or heavy snow.
- Driving at night, the tail lamp of the vehicle ahead is missing, installed on an unusual place or installed unevenly.
- Coming in or out a tunnel, where the illumination intensity is high.
Go to the User Settings Mode (Driving Assist) and undo the check for AEB (Autonomous Emergency Braking) on the LCD display (For more details refer to "LCD Display" in chapter 3.). ...
Cruise Control operation 1.CRUISE indicator 2.SET indicator The Cruise Control system allows you to drive at speeds above 20 mph (30 km/h) without depressing the accelerator pedal. WARNIN ...
Other information:
Replacement 1. Using a clip remover, remove the clips and then the hood insulator pad (A). • Be careful not to scratch the hood panel. 2. Install in the reverse order of removal. • Replace any damaged clips. ...
Description The Emergency Fastening Device (EFD) operates at the same time with the Seat Belt Pretensioner when it satisifies the deployment condition after a collision. It is an auxiliary equipment to prevent a driver and passenger from breaking away by pulling the seat belt toward the a ...
© 2013-2022 www.hgenesisdh.com