Hyundai Genesis: IMS(Integrated Memory System) / Tilt & Telescope Control (SCM) Schematic Diagrams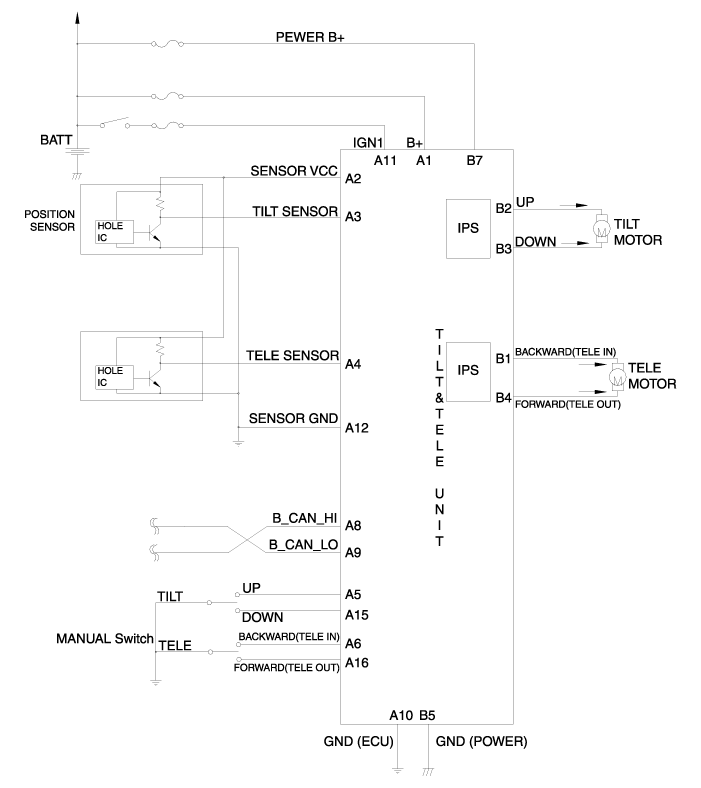 | | | | |
| --- | --- | --- | --- |
| NO. | Function (Connector A) | NO. | Function (Connector B) |
| 1 | B+ (ECU) | 1 | Tele motor backward (tele in) |
| 2 | Sensor VCC | 2 | Tilt motor up |
| 3 | Tilt sensor | 3 | Tilt motor down |
| 4 | Tele sensor | 4 | Tele motor forward (tele out) |
| 5 | Tilt up switch | 5 | Power GND |
| 6 | Tele backward (tele in) 5W | 6 | - |
| 7 | - | 7 | Power B+ |
| 8 | B_CAN_High | 8 | - |
| 9 | B_CAN_Low | 9 | - |
| 10 | ECU GND | 10 | - |
| 11 | IGN1 | 11 | - |
| 12 | Sensor GND | 12 | - |
| 13 | - | 13 | - |
| 14 | - | 14 | - |
| 15 | Tilt down switch | 15 | - |
| 16 | Tele forward (tele out) switch | 16 | - |
| 17 | - | 17 | - |
| 18 | - | 18 | - |
| 19 | - | 19 | - |
| 20 | - | 20 | - |
Description The Tilt & Telescope operation function in SCM contains of the following function. 1. Manual control with direction switches (Tilt Up/Down, Telescope Forward/Backward). 2. Pla ...
Inspection Ims Mode Setting With GDS 1. You can turn ON/OFF of IMS tilt & telescope control option with the user option program. 2. Select model and "body control module" menu. 3. Sel ...
Other information:
Inspection 1. Turn the ignition switch OFF. 2. Disconnect the HO2S connector. 3. Measure resistance between the HO2S terminals 1 and 2. 4. Check that the resistance is within the specification. Specification: Refer to "Specification" Removal 1. Turn the ignition switc ...
Description The valve body is essential to automatic transmission control and consists of various valves used to control the oil feed from the oil pump. Specifically, these valves consist of pressure regulator valves, oil redirection valves, shift valves, and manual valves. The valve body ...
© 2013-2022 www.hgenesisdh.com