Hyundai Genesis: IMS(Integrated Memory System) / Tilt & Telescope Control (SCM) Schematic Diagrams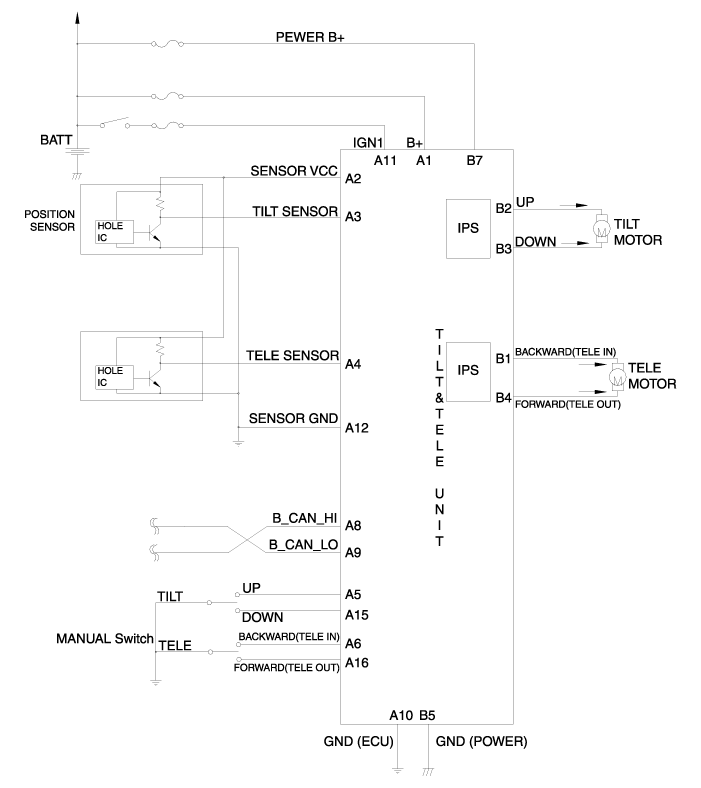 | | | | |
| --- | --- | --- | --- |
| NO. | Function (Connector A) | NO. | Function (Connector B) |
| 1 | B+ (ECU) | 1 | Tele motor backward (tele in) |
| 2 | Sensor VCC | 2 | Tilt motor up |
| 3 | Tilt sensor | 3 | Tilt motor down |
| 4 | Tele sensor | 4 | Tele motor forward (tele out) |
| 5 | Tilt up switch | 5 | Power GND |
| 6 | Tele backward (tele in) 5W | 6 | - |
| 7 | - | 7 | Power B+ |
| 8 | B_CAN_High | 8 | - |
| 9 | B_CAN_Low | 9 | - |
| 10 | ECU GND | 10 | - |
| 11 | IGN1 | 11 | - |
| 12 | Sensor GND | 12 | - |
| 13 | - | 13 | - |
| 14 | - | 14 | - |
| 15 | Tilt down switch | 15 | - |
| 16 | Tele forward (tele out) switch | 16 | - |
| 17 | - | 17 | - |
| 18 | - | 18 | - |
| 19 | - | 19 | - |
| 20 | - | 20 | - |
Description The Tilt & Telescope operation function in SCM contains of the following function. 1. Manual control with direction switches (Tilt Up/Down, Telescope Forward/Backward). 2. Pla ...
Inspection Ims Mode Setting With GDS 1. You can turn ON/OFF of IMS tilt & telescope control option with the user option program. 2. Select model and "body control module" menu. 3. Sel ...
Other information:
Troubleshooting SymptomSuspect AreaEngine does not start or is hard to startVapor hose damaged or disconnectedEEngine struggles to startMalfunction of the purge control solenoid valveRough idle or engine stallsVapor hose damaged or disconnectedMalfunction of the PCV valveRough idleMalfunction o ...
Replacement • Prolonged and repeated contact with mineral oil will result in the removal of natural fats from the skin, leading to dryness, irritation and dermatitis. In addition, used engine oil contains potentially harmful substance which may cause skin ...
© 2013-2023 www.hgenesisdh.com