Hyundai Genesis: IMS(Integrated Memory System) / Tilt & Telescope Control (SCM) Schematic Diagrams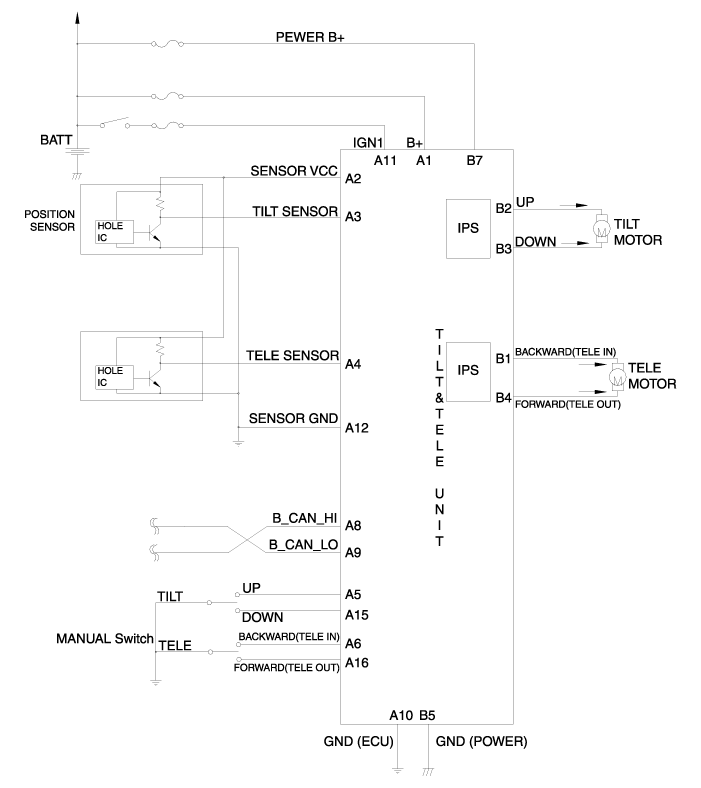 | | | | |
| --- | --- | --- | --- |
| NO. | Function (Connector A) | NO. | Function (Connector B) |
| 1 | B+ (ECU) | 1 | Tele motor backward (tele in) |
| 2 | Sensor VCC | 2 | Tilt motor up |
| 3 | Tilt sensor | 3 | Tilt motor down |
| 4 | Tele sensor | 4 | Tele motor forward (tele out) |
| 5 | Tilt up switch | 5 | Power GND |
| 6 | Tele backward (tele in) 5W | 6 | - |
| 7 | - | 7 | Power B+ |
| 8 | B_CAN_High | 8 | - |
| 9 | B_CAN_Low | 9 | - |
| 10 | ECU GND | 10 | - |
| 11 | IGN1 | 11 | - |
| 12 | Sensor GND | 12 | - |
| 13 | - | 13 | - |
| 14 | - | 14 | - |
| 15 | Tilt down switch | 15 | - |
| 16 | Tele forward (tele out) switch | 16 | - |
| 17 | - | 17 | - |
| 18 | - | 18 | - |
| 19 | - | 19 | - |
| 20 | - | 20 | - |
Description The Tilt & Telescope operation function in SCM contains of the following function. 1. Manual control with direction switches (Tilt Up/Down, Telescope Forward/Backward). 2. Pla ...
Inspection Ims Mode Setting With GDS 1. You can turn ON/OFF of IMS tilt & telescope control option with the user option program. 2. Select model and "body control module" menu. 3. Sel ...
Other information:
Components Connector Pin Information No.Connector AConnector BConnector C1-Multmedia-CAN (High)P-CAN (Low)2--P-CAN (High)3--Monitor touch_CAN (-)4--Monitor touch_CAN (+)5SPDIF Shield GND--6SPDIF (+)MTS keypad signalGND7-AUX jack (Video)Camera_C8Illumination (+)AUX R inputVideo GND_C9Reverse si ...
Component Location 1. Rear package tray trim ...
© 2013-2021 www.hgenesisdh.com