Hyundai Genesis: Automatic transmission operation / Sports mode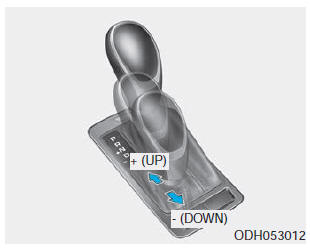 Whether the vehicle is stationary or in motion, sports mode is selected by pushing the shift lever from the D (Drive) position into the manual gate. To return to D (Drive) range operation, push the shift lever back into the main gate.
In Sports Mode, moving the shift lever backwards and forwards will allow you to select the desired range of gears for the current driving conditions.
+ (Up) : Push the lever forward once to shift up one gear.
- (Down) : Pull the lever backwards once to shift down one gear.
✽ NOTICE
Only the eight forward gears can be selected. To reverse or park the vehicle, move the shift lever to the R (Reverse) or P (Park) position as required.
Downshifts are made automatically when the vehicle slows down. When the vehicle stops, 1st gear is automatically selected.
When the engine rpm approaches the red zone the transmission will upshift automatically.
If the driver presses the lever to + (Up) or - (Down) position, the transmission may not make the requested gear change if the next gear is outside of the allowable engine rpm range. The driver must execute upshifts in accordance with road conditions, taking care to keep the engine rpms below the red zone.
When accelerating from a stop on a slippery road, push the shift lever forward into the + (Up) position. This causes the transmission to shift into the 2nd gear which is better for smooth driving on a slippery road. Push the shift lever to the - (Down) side to shift back to the 1st gear.
The automatic transmission has eight forward speeds and one reverse speed. The individual speeds are selected automatically in the D (Drive) position. WARNING To reduce the risk of serious ...
The paddle shifter is available when the shift lever is in the D (Drive) position or the sports mode. With the shift lever in the D position The paddle shifter will operate when the vehicle ...
Other information:
Description The hydraulic system consists of oil, an oil filter, an oil pump, and a valve body (valves and solenoid valves). The oil pump is powered by the engine. ATF passes through the oil filter and gets distributed along the oil channels. The oil becomes highly pressurized as it exists in ...
Removal 1. Loosen the wheel nuts slightly. Raise the vehicle, and make sure it is securely supported. 2. Remove the front wheel and tire (A) from the rear hub. Tightening torque: 88.3 ~ 107.9 N.m (9.0 ~ 11.0 kgf.m, 65.1 ~ 79.6 lb-ft) Be careful not to damage the ...