Hyundai Genesis: Snow or icy conditions / Snow tires
We recommend you use snow tires when road temperature is below 45°F (7°C). Refer to the below chart, and mount the recommended snow tire for your vehicle.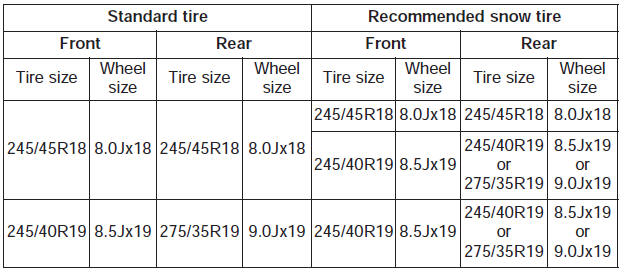 If you mount snow tires on your vehicle, make sure to use the same inflation pressure as the original tires. However, if you mount 245/40R19 size tire on the rear, the tire inflation pressure should maintain 35psi. Mount snow tires on all four wheels to balance your vehicle's handling in all weather conditions. The traction provided by snow tires on dry road may not be as high as your vehicle's original equipment tires. Check with the tire dealer for maximum speed recommendations.
✽ NOTICE
Do not install studded tires without first checking local, state and municipal regulations for possible restrictions against their use.
You need to keep sufficient distance between your vehicle and the vehicle in front of you. Apply the brakes gently. Speeding, rapid acceleration, sudden brake applications, and sharp turns ar ...
Since the sidewalls on some radial tires are thinner than other types of tires, they may be damaged by mounting certain types of tire chains on them. Therefore, the use of snow tires is re ...
Other information:
Components (1) NO.Connector AConnector BConnector C1Immobilizer antenna GNDB+IGN2 input2Bumper antenna GND??3Trunk antenna GNDESCL GRN ESCL enable output4Indoor antenna 2 GND?Assist door button input5Driver's door antenna GNDGNDSSB_switch1 inpuf6Indoor antenna 1 GNDB+POWEREMS CAN7Door ante ...
Replacement 1. Remove the front door trim. (Refer to Front Door - "Front Door Trim") 2. After loosening the mounting screws, remove the front door belt outside weatherstrip (A). 3. Separating the mounting plug hole (A) from the front door module. Lower the glass by operating the power ...