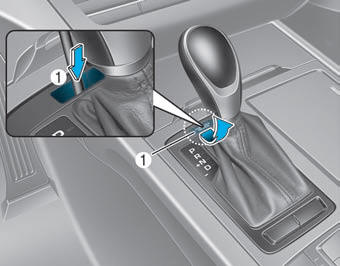 If the shift lever cannot be moved from the P (Park) position into R (Reverse) position with the brake pedal depressed, continue depressing the brake, and then do the following:
1.Place the Engine Start/Stop button in the OFF position.
2.Apply the parking brake.
3.Carefully remove the cap (1) covering the shift-lock override access hole.
4.Insert a screwdriver into the access hole and press down on the screwdriver.
5.Move the shift lever.
6.Remove the screwdriver from the shift-lock override access hole then install the cap.
If you need to use the shift-lock release, have your vehicle inspected by an authorized HYUNDAI dealer immediately.
For your safety, the automatic transmission has a shift-lock system which prevents shifting the transmission from P (Park) into R (Reverse) unless the brake pedal is depressed. To shift the t ...
Always come to a complete stop and continue to depress the brake pedal. Move the shift lever into the P (Park) position, apply the parking brake, and place the Engine Start/Stop button in th ...
Other information:
Replacement • When removing with a flat-tip screwdriver or remover, wrap protective tape around the tools to prevent damage to components. • When removing the interior trim pieces, use a plastic panel removal tool not to damage the surface. • Take care n ...
The wheels on your vehicle were aligned and balanced carefully at the factory to give you the longest tire life and best overall performance. In most cases, you will not need to have your wheels aligned again. However, if you notice unusual tire wear or your vehicle pulling one way or ...