Hyundai Genesis: Safety system of your vehicle / Seats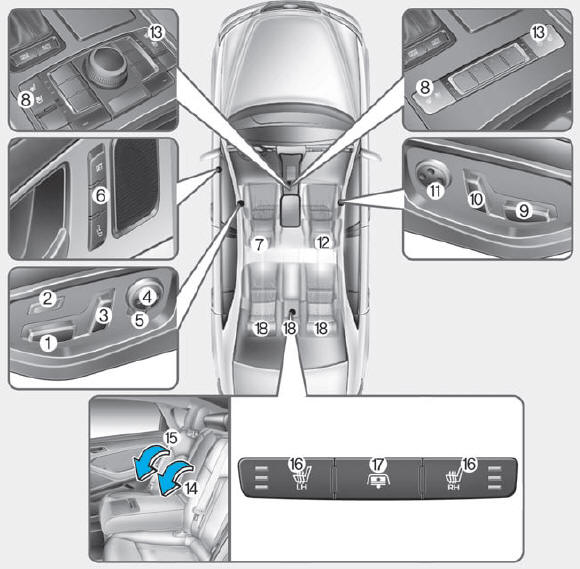 Driver's seat
(1) Seat sliding forward or rearward/ Seat tilt/height adjustment
(2) Seat cushion length adjustment
(3) Seatback angle adjustment
(4) Lumbar support adjustment
(5) Seat bolster adjustment*
(6) Driver position memory system*
(7) Headrest adjustment
(8) Seat warmer/Seat warmer and cooler (by air)
Front passenger's seat
(9) Seat sliding forward or rearward/ Seat tilt/height adjustment
(10) Seatback angle adjustment
(11) Lumbar support adjustment*
(12) Headrest adjustment
(13) Seat warmer/Seat warmer and cooler (by air)
Rear seat
(14) Ski through
(15) Armrest
(16) Seat warmer*
(17) Rear curtain control*
(18) Headrest height adjustment
You will find many safety precautions and recommendations throughout this section, and throughout this manual. The safety precautions in this section are among the most important. Always wear ...
Adjusting the seats so that you are sitting in a safe, comfortable position plays an important role in driver and passenger safety together with the seat belts and air bags in an accident. WA ...
Other information:
Components Connector Pin Information No.Connector AConnector B1-MM CAN HIGH2Rear seat LCD monitor ON / OFF-3-High-speed CAN (+)4--5-AUX video shield GND6-IGN 1 B(+)7i-BOX microphone (+)AUX Video8Illumination (+)AUX R 9Reverse-10i-BOX microphone shield GND MIC(+) 11-ACC 12-B ...
The LCD display modes can be changed by using the control buttons on the steering wheel. (1) : MODE button for changing modes (2) ▲, ▼ : MOVE switch for changing items (3) OK : SELECT/RESET button for setting or resetting the selected item (4) : BACK button for moving to uppe ...
© 2013-2022 www.hgenesisdh.com