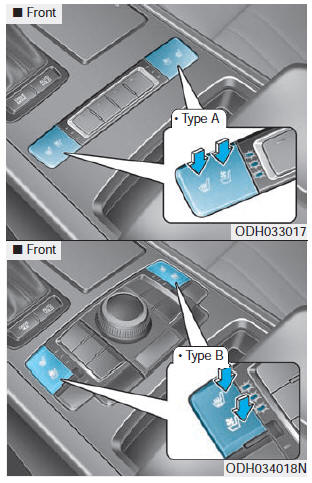 The seat warmers and coolers are provided to warm or cool the front seats by blowing air through small vent holes on the surface of the seat cushions and seatbacks.
When the operation of the seat warmers or cooler are not needed, keep the switches in the OFF position.
While the engine is running, push the switch to warm or cool the seat.
Each time you push the switch, the air flow changes as follows:

When pressing the switch for more than 1.5 seconds with the seat warmer or cooler operating, the seat warmer will turn OFF.
The seat warmers or coolers defaults to the OFF position whenever the Engine Start/Stop button is turned to the ON position.
✽ NOTICE
With the seat warmer or cooler switch in the ON position, the system in the seat automatically controls the seat temperature by designed temperature.
CAUTION
To prevent damage to the seat warmer, seat cooler and seats:
Use the seat warmer and cooler ONLY when the climate control system is on. Using the seat warmer and cooler for prolonged periods of time with the climate control system off could cause the seat warmer and cooler to malfunction.
Never use a solvent such as paint thinner, benzene, alcohol or gasoline to clean the seats.
Avoid spilling liquids on the surface of the front seats and seatbacks; this may cause the air vent holes to become blocked and not work properly.
Do not place materials such as plastic bags or newspapers under the seats. They may block the air intake causing the air vents to not work properly.
Do not change the seat covers. It may damage the seat warmer or cooler.
If the air vents do not operate, restart the vehicle. If there is no change, we recommend that you have your vehicle inspected by an authorized HYUNDAI dealer.
Other information:
Operation and Leakage Check Check all of the following items: ComponentProcedureBrake Booster (A)Check brake operation by applying the brakes during a test drive. If the brakes do not work properly, check the brake booster. Replace the brake booster as an assembly if it does not work properl ...
Check SCC radar If the sensor or cover is dirty or obscured with foreign matter such as snow, the message will appear. Clean the sensor or cover by using a soft cloth. Check SCC System • This warning message illuminates if there is a malfunction with the advanced smart cruise co ...