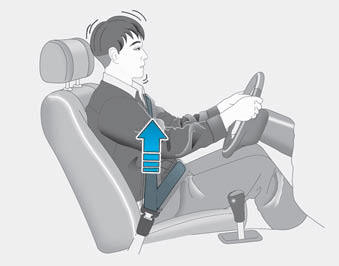 The purpose of the Pre-Safe Seat Belt is to tighten the seat belt when a collision is sensed, driving emergency braking, or when a loss of control is sensed.
CAUTION
The pre-safe seat belt is a supplementary system. The presafe seat belt activates only when the passenger is wearing his/her seat belt.
If the seat belt is released, the belt parking function will activate. For more detailed refer to the belt parking function.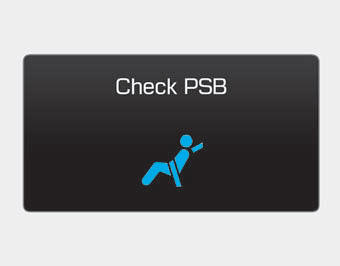 The pre-safe seat belt warning will turn on if there is a problem with your pre-safe seat belt.
Have the system checked by an authorized HYUNDAI dealer if :
The warning message comes on while the vehicle is in motion. if the PSB warning message disappeared, the warning indicator (master symbol) turns on.
In order to maximize the safety of the passenger, the pre-safe seat belt system operates as below.
• Full retraction
The seat belt is tightened when:
- Emergency braking situation occurs
- Losing control of the vehicle
- The vehicle senses the collision situation by sensor (If equipped)
• Dynamic support
- Slippery frozen road
- The passenger leans to one side by sudden braking or rapid turning.
• Slack removal
Other functions are tightening a loose seat belt after vehicle speed is over 15 km/h (9.3 mph) and winding a loose seat belt after unfastening the seat belt.
• Belt parking
When releasing the seat belt, if the seat belt loosens, the motor will wind up a loose seat belt to tight.
Other information:
Inspection Glass Antenna Test 1. Wrap aluminum foil (A) around the tip of the tester probe (B) and move the probe along the grid line to check whether the circuit opens. 2. Bring one end of the tester probe into contact with the glass antenna terminal (A) while moving the other end al ...
Component Location 1. AVN head unit2. Front LCD Monitor3. Blue Link keypad (blue link)4. Multimedia jack5. WI - FI antenna6. Roof antenna7. External amplifier8. Hands-free mic (Built - in overhead console)9. Steering wheel remote control (SWRC) ...