Continuous Variable Valve Timing (CVVT) system advances or retards the valve timing of the intake and exhaust valve in accordance with the ECM control signal which is calculated by the engine speed and load.
By controlling CVVT, the valve over-lap or under-lap occurs, which makes better fuel economy and reduces exhaust gases (NOx, HC) and improves engine performance through reduction of pumping loss, internal EGR effect, improvement of combustion stability, improvement of volumetric efficiency, and increase of expansion work.
- the CVVT Oil Control Valve (OCV) which supplies the engine oil to the cam phaser or cuts the engine oil from the cam phaser in accordance with the ECM PWM (Pulse With Modulation) control signal,
- the CVVT Oil Temperature Sensor (OTS) which measures the engine oil temperature,
- and the Cam Phaser which varies the cam phase by using the hydraulic force of the engine oil.
The engine oil which is supplied through the CVVT oil control valve varies the cam phase in the direction (Intake Advance/Exhaust Retard) or opposite direction (Intake Retard/Exhaust Advance) of the engine rotation by rotating the rotor connected with the camshaft inside the cam phaser.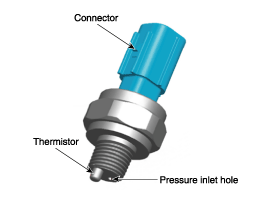 Other information:
Components Connector Pin Information No.Connector AConnector BConnector C1-Multmedia-CAN (High)P-CAN (Low)2--P-CAN (High)3--Monitor touch_CAN (-)4--Monitor touch_CAN (+)5SPDIF Shield GND--6SPDIF (+)MTS keypad signalGND7-AUX jack (Video)Camera_C8Illumination (+)AUX R inputVideo GND_C9Reverse si ...
Removal 1. Loosen the wheel nuts slightly. Raise the vehicle, and make sure it is securely supported. 2. Remove the front wheel and tire (A) from the rear hub. Tightening torque: 88.3 ~ 107.9 N.m (9.0 ~ 11.0 kgf.m, 65.1 ~ 79.6 lb-ft) Be careful not to damage the ...