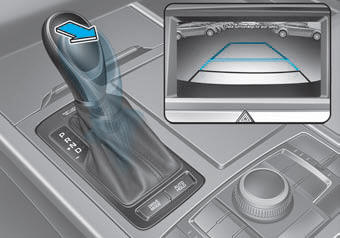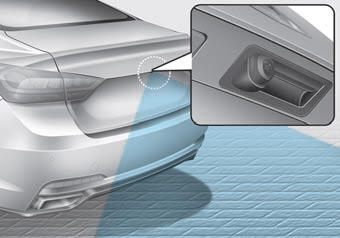 The Parking Guide System (PGS) will activate when the back-up light is ON with the Engine Start/Stop button ON and the shift lever in the R (Reverse) position.
The Parking Guide System is not a substitute for proper and safe parking procedures. The Parking Guide System may not detect every object surrounding the vehicle.
Always drive safely and use caution when parking.
WARNING
This is a supplementary system. It is the responsibility of the driver to always check the area around the vehicle when parking the vehicle.
Parking Guide System (PGS) display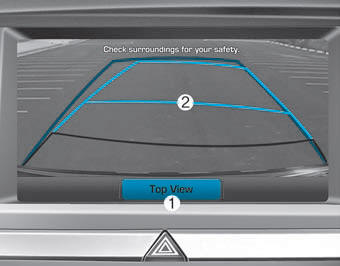 1. Changing rear view angle
Changes the view angle of the rear camera. (Top View ↔ Normal View)
2. Parking guide line
According to the steering angle, the parking guide line is displayed to help parking.
Changing rear view angle
1. Top view

When Top View is selected, the rear view angle is displayed as if looking down from above.
2. Normal view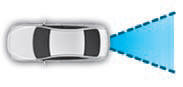 When Normal View is selected, the rear view angle is displayed in a customary view with a normal rear view perspective.
WARNING
Never rely solely on the rear view display when backingup.
ALWAYS look around your vehicle to make sure there are no objects or obstacles before moving the vehicle in any direction to prevent a collision.
Always pay close attention when the vehicle is driven close to objects, particularly pedestrians, and especially children.
✽ NOTICE
Always keep the camera lens clean. The camera may not work normally if the lens is covered with foreign matter.
Other information:
Replacement • When installing the belt, make sure not to damage the pretensioner. 1. Remove the front anchor seat belt (A). ?How to detach the anchor seat belt 1) Expose the red-colored indicator pin (A) by pushing the slot hole with a O 1 ...
Adjustment Glass Adjustment • Check the glass run channel for damage or deterioration, and replace it if necessary. 1. Remove the front door trim. (Refer to Front Door - "Front Door Trim") 2. Separate the mounting plug hole (A) from the front door module. ...