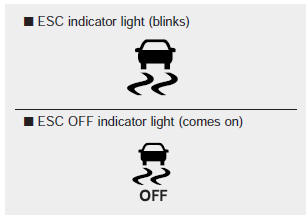 When the Engine Start/Stop button is pressed to the ON position, the ESC indicator light illuminates, then goes off if the ESC system is operating normally.
The ESC indicator light blinks whenever the ESC is operating.
If ESC indicator light stays on, your vehicle may have a malfunction with the ESC system. When this warning light illuminates have your vehicle checked by an authorized HYUNDAI dealer as soon as possible.
The ESC OFF indicator light comes on when the ESC is turned off from the User Settings Mode.
WARNING
When the ESC is blinking, this indicates the ESC is active:
Drive slowly and NEVER attempt to accelerate. NEVER turn the ESC off while the ESC indicator light is blinking or you may lose control of the vehicle resulting in an accident.
CAUTION
Driving with varying tire or wheel sizes may cause the ESC system to malfunction. When replacing tires, make sure they are the same size as your original tires for this vehicle.
ESC ON condition When the Engine Start/Stop button is in the ON position, the ESC and the ESC OFF indicator lights illuminate for approximately three seconds and goes off, then the ESC is tur ...
Other information:
1. TCM Connector and Terminal Function 2. TCM Terminal Function Connector PinDescriptionPinDescription1Battery power48-2Battery power49-3Power(IG 1)5027 Brake control solenoid valve4Ground51-5Ground52ON/OFF solenoid valve6Ground53-7-54Input speed sensor signal8-55Middle speed sensor signal9-5 ...
Replacement 1. Remove the front seat assembly. (Refer to Front Seat - "Front Seat Assembly") 2. Remove the two fixing clips using a flat-tip screwdriver, and then remove the front seat integration connector cover (B). 3. To remove the front seat belt buckle connector, use a sharp-point ...