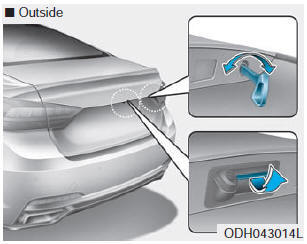 To open:
1. Make sure the shift lever is in P (Park).
2. Then do one of the following :
- Press the Smart Key Trunk Unlock button for more than one second.
- Press the button on the trunk itself with the Smart Key in your possession.
- Use the mechanical key.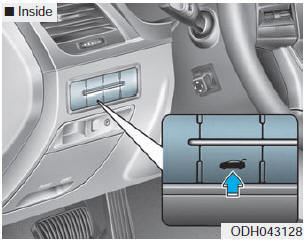 - Use the trunk release button.
3. Lift the trunk lid up.
To close:
Lower the trunk lid and press down until it locks.
WARNING
Always keep the trunk lid completely closed while the vehicle is in motion. If it is left open or ajar, poisonous exhaust gases containing carbon monoxide (CO) may enter the vehicle and serious illness or death may result.
WARNING
Make sure there are no people or objects around the trunk before opening or closing the Power Trunk.Wait until the trunk is open fully and stopped before loading or unloading cargo from the vehicle.
CAUTION
To prevent damage to the trunk lift cylinders and the attached hardware, always close the trunk before driving.
✽ NOTICE
In cold and wet climates, trunk lock and trunk mechanisms may not work properly due to freezing conditions.
Other information:
To use the side curtain: 1. Lift the curtain by the hook (1). 2. Hang the curtain on both sides of the hook. CAUTION Always hang both sides of the curtain on the hook. This could cause damage to the side curtain if only one side of the curtain is hooked. Do not let any forei ...
The LKAS screen will appear on the LCD display if the system is activated. When both lane lines are detected and all the conditions to activate the LKAS are satisfied (green steering wheel indicator will illuminate and the LKAS indicator light will change from white to gr ...