Hyundai Genesis: Fuel Delivery System / Components and Components Location
1. Fuel tank




2. Fuel pump




3. Sub fuel sender




4. Fuel filter




5. Over Pressure Valve (OPV)




6. Canister




7. Fuel tank air filter




8. Fuel Pressure Sensor (FPS)




9. Fuel Tank Pressure Sensor (FTPS)




10. Canister Close Valve (CCV)




11. Fuel Level Sensor (FLS)




12. Fuel Filler hose




13. Leveling hose




14. Vent hose



[High Pressure Fuel Line]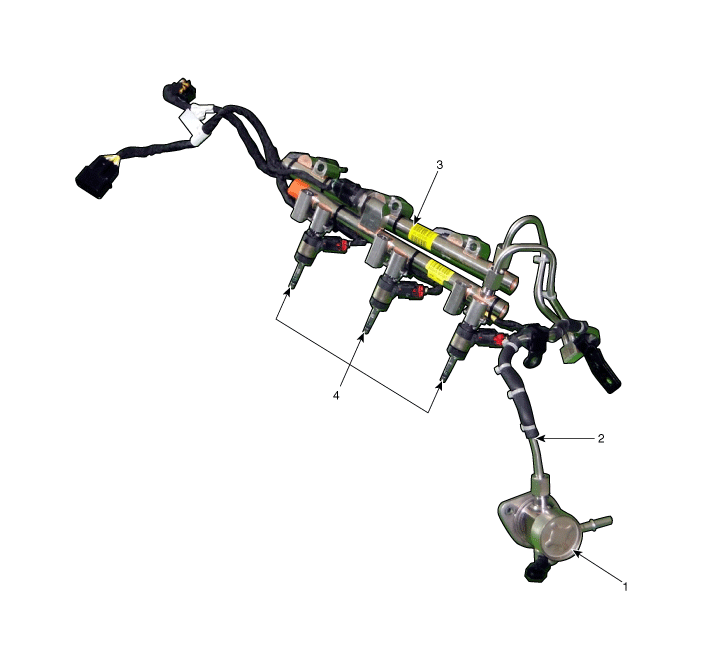 1. High Pressure Fuel Pump




2. High Pressure Fuel Pipe




3. Delivery Pipe




4. Injector



In case of removing the high pressure fuel pump, high pressure fuel pipe, delivery pipe, and injector, there may be injury caused by leakage of the high pressure fuel. Do not conduct any repair work right after the engine stops.
Troubleshooting • Check the fuel pressure after replacing parts. (Refer to Fuel Delivery System - "Release Residual Pressure in Fuel Line") ...
Other information:
Specification [Throttle Position Sensor (TPS)] Throttle angle(°)Output Voltage (V)TPS1TPS200.54.5100.964.05201.413.59301.873.14402.322.68502.782.23603.231.77703.691.32804.140.86904.600.41984.650.35C.T (0)0.54.5W.O.T (86)4.410.59 [ETC Motor] ItemSpecificationCoil Resistance (?)0.3 ~100 [20° ...
Components 1. Receiver2. TPMS Sensor (FL) 3. TPMS Sensor (RL) 4. TPMS Sensor (RR)5. TPMS Sensor (FR) ...
© 2013-2022 www.hgenesisdh.com